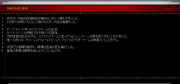 Report 090305 was a Level 06 report filed by Ryan to the BSAA Remote Desktop on 5 March 2009.
Transcript
2009.03.05 23:56 Level.06

Last night, I didn't sleep a wink until I got a progress report of the operation.
The effort was paid off at dawn, but the contents were awful.

Alpha Team, led by Dan DeChant, was wiped out.
Relay helicopter, piloted by Kirk Mathison, crashed.
As of yesterday, Headquarters has decided to bring in Josh Stone as the backup team.
Our only salvation is Chris Redfield and Sheva Alomar's Bravo Team.

Information became complicated in the headquarters, and the site is getting more chaotic.
The situation seems to be about to get worse.
2009.03.05 23:56 Level.06

昨夜は、 作戦の経過報告が届かないかと一睡もせずにいた。
その努力は明け方になって報われたが、 内容は最悪だった。

ダン・デチャント率いるアルファチームは全滅。
カーク・マシソンの操縦する中継ヘリは墜落。
作戦本部は昨日のうちに、バックアップチームであったジョッシュ・ストーンの隊を投入することを決定した。
唯一の救いは、クリス・レッドフィールドとシェバ・アローマのブラボーチームは無事ということだけか。

本部では情報が錯綜し、現場は混迷の度を深めている。
事態は最悪の展開を迎えようとしているようだ。
Community content is available under
CC-BY-SA
unless otherwise noted.