Real World article
(Written from a Production point of view)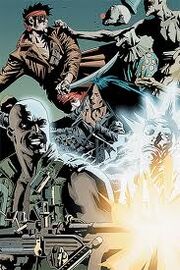 Resident Evil: Fire & Ice is a four-issue comic book produced by Wildstorm (who also drew the Resident Evil: The Official Comic Magazine) that was published bi-monthly from December 2000 to May 2001. The story was written by Kris Oprisko and Ted Adams, with art by Lee Bermejo and Mark Irwin. The story centers around the S.T.A.R.S. Charlie team division, as they are sent to investigate a circus contaminated by the G-Virus. The comic was reprinted in as a 256-page graphic novel by DC Comics in April 2009 to co-incide with the release of Resident Evil 5, with the four issues being accompanied by highlights from the Official Comic Magazine.[1]
Issues
| Issue no. | Cover art | Release date | Official description |
| --- | --- | --- | --- |
| Resident Evil: Fire and Ice Issue #1 | | December 2000 | RESIDENT EVIL: FIRE & ICE #1 introduces Charlie Team, a new S.T.A.R.S. unit formed to hunt down and destroy Umbrella and its evil experiments wherever they're found. Beginning in a circus, our heroes learn that not all is clowns and cotton candy under the big top. This circus is contaminated with the G-Virus! |
| Resident Evil: Fire and Ice Issue #2 | | February 2001 | The S.T.A.R.S. Charlie Team splits into two sections to investigate two different possible Umbrella labs, one team going to the frozen Alaskan wastes where they are confronted by mutated Arctic beasts, the other to Mexico during the Day of the Dead celebration, where the line between dead and undead has never been so hard to determine. |
| Resident Evil: Fire and Ice Issue #3 | | April 2001 | The secretive Umbrella organization reveals its plans for the X-Virus—and how the captured members of the STARS Charlie Team tie into those plans. Hint: our heroes aren't going to be happy. The non-stop action unfolds in Mexico and Alaska, as Charlie Team battles zombies in both places. |
| Resident Evil: Fire and Ice Issue #4 | | May 2001 | |
Sources
↑ RESIDENT EVIL: FIRE AND ICE. DCComics.com. Retrieved on 2012-10-30.
Community content is available under
CC-BY-SA
unless otherwise noted.