Fire Emblem Warriors: Three Hopes - The Loop
Play Sound
Resident Evil: Operation Raccoon City, known in Japan as Biohazard: Operation Raccoon City (バイオハザード オペレーション・ラクーンシティ, Baiohazādo Operēshon Rakūn Shiti?), is a 2012 third-person-shooter video game with online playability for Microsoft Windows, Xbox 360, and PlayStation 3. It was developed by Slant Six Games and published by Capcom.[1] It is set at the same time as Resident Evil 2 and Resident Evil 3: Nemesis, but is unrelated to the main series storyline and is a "what-if" entry in the series outside of Mainstream canon.
Plot summary
The story focuses on two separate special forces teams - Delta Team and Echo Six - as they take part in missions for their respective commands. Delta Team, a Umbrella Secret Service unit, is assigned by U.S.S. Command with the destruction of digital data incriminating Umbrella to the biological outbreak, as well as destroying facilities and killing witnesses to prevent the US government obtaining further data. Such missions include the disabling of the city's power grid to prevent anyone using telephones.
Echo Six, who operate on behalf of the U.S. government, instead have orders to obtain sensitive Umbrella data to take them down, helping out isolated survivors along the way like Jill Valentine and Sherry Birkin.
As shown by the way the ending boss ("Parasite Super Tyrant") is created, the two campaigns are not connected, canonically, and instead ask "what if this organization had a firm grip during the outbreak".
Cast list
Release
Console release
The game has two editions internationally, although another special edition was released exclusively in Japan, which includes a concept guide of the game and an exclusive DVD called "The Secret Report".:[2]
Edition
Content
Game disk
Manual
DLC weapons
DLC alternate costumes
Metallic casing
Art book
U.S.S. and SpecOps patches
"Secret Report" disk
Standard
Yes
Yes
No
No
No
No
No
No
Special
Yes
Yes
Yes
Yes
Yes
No
Yes
No
Limited Edition (Japan-only)
Yes
Yes
?
?
?
Yes
Yes
Yes
Pre-order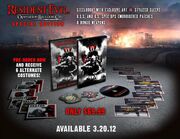 Customers who pre-ordered the game obtained two DLC weapons for the game, which varied depending on the retailer: Amazon, BestBuy, or GAME/GameStop.
Release dates
The release dates were confirmed to be:
| Region | Release date |
| --- | --- |
| North America | March 20, 2012 |
| Europe | March 23, 2012 |
| Australia | March 22, 2012 |
| Japan | April 26, 2012 |
External links
Sources