Arcane: League of Legends - The Loop
Play Sound
This article contains information on new or unreleased content, and may not be complete, confirmed or correct. Please update it as soon as any relevant, up-to-date, and accurate material is available.
Resident Evil: Remedium, also known as Resident Evil,[note 1] is an upcoming German-American television series created by Andrew Dabb and Martin Moskowicz of Constantin Film. Filming for Season 1 took place from February–July 2021, consisting of eight 60 minute episodes.[1] The series introduces a new universe, rather than the universe of the Anderson films or the 2021 reboot film, with the setting being the lead-up and the years after a global T-virus pandemic. The story will revolve around Billie and Jade, half-twin sisters created as part of a secret project by their adopted father, Albert Wesker. Netflix has purchased exclusive distribution rights for the series.[1]
Plot summary
"Nearly three decades after the discovery of the T-virus, an outbreak reveals the Umbrella Corporation's dark secrets. Based on the horror franchise."
— The official Netflix summary from August.
The series' main plot is spread out over two periods in time - 2022 and 2038, separated by a gap of some 16 years.[1] The "past" plotline deals with the struggles of 14 year old half-twins Billie and Jade Wesker, adopted children raised by Albert Wesker and born through suspicious circumstances. Their lives take a dramatic turn when Albert is awarded an executive position at the struggling Umbrella Corporation that once employed him, and they move to the company's planned community in New Raccoon City. While there the two girls stumble onto the dark secrets behind the city's history and Umbrella's dark legacy, while their father deals with a T-virus outbreak.
In the present of 2038, the virus has long since spread across the world, mutating most of the population into creatures called "Zeroes". Human civilisation has been reduced to 15 million refugees living in a series of isolated city states, with the most powerful remnant being controlled by Umbrella's paramilitary. Billie and Jade have spent the pandemic living separately, with Jade fleeing to Europe and becoming a leading expert on Zero biology and Billie growing up in Umbrella's domain. While Jade has long believed her sister to be dead, Billie has risen to a senior rank within the corporate hierarchy and is involved in a global manhunt for Jade.
Episodes
The following table is based on confirmed information. Tara Knight, Garett Pereda and Shane Tortolani are known writers, but which episodes they wrote or co-wrote are not yet known. Mary Leah Sutton is also known to have written one of the Goldberg episodes, which were filmed last.
| No. | Title | Writer | Director | Airdate |
| --- | --- | --- | --- | --- |
| 1 | "Welcome to New Raccoon City" | Andrew Dabb | Bronwen Hughes | TBA |
| 2 | TBA | TBA | Bronwen Hughes | TBA |
| 3 | TBA | TBA | Rob Seidenglanz | TBA |
| 4 | TBA | Kerry Williamson | Rob Seidenglanz | TBA |
| 5 | TBA | TBA | Rachel Goldberg | TBA |
| 6 | TBA | TBA | Batán Silva | TBA |
| 7 | TBA | TBA | Batán Silva | TBA |
| 8 | TBA | TBA | Rachel Goldberg | TBA |
Production
Pre-production
"
The town of Clearfield, MD has long stood in the shadow of three seemingly unrelated behemoths – the Umbrella Corporation, the decommissioned Greenwood Asylum, and Washington, D.C. Today, twenty-six years after the discovery of the T-Virus, secrets held by the three will start to be revealed at the first signs of outbreak.
"
— An early Netflix summary from February, before filming took place
Planning for the Resident Evil TV series began in 2014 after a shake-up within Constantin Film, which sought to invest its licenses in long-running television adaptations. Producer Martin Moszkowicz announced two shows that year that would be adapted, the first being Shadowhunters, an adaptation of the Mortal Instruments book series following Screen Gem's shelving of the film project, The Mortal Instruments: City of Ashes. This show was part-funded by ABC and went through three seasons before its cancellation in 2019. The second show announced was a Resident Evil series, which was to begin work following the release of Resident Evil: The Final Chapter.[2][3]
Due to two hiatuses during production of the film, pre-production of the TV series was delayed considerably, and interest was renewed in 2019, with Deadline taking notice of Constantin's negotiations with Netflix for distribution rights.[4] By 2020, Andrew Dabb had been appointed as showrunner and was in the process of developing the story for an eight-episode series under the working title of "Venus Flytrap".[5] An early version of the show's premise was inadvertently leaked on 7 February 2020 following the addition of the official webpage to Netflix's servers, making the series temporarily present in search results.[6] This was quickly reported on by the Brazilian fan-site Resident Evil Database.[7] Within hours, Netflix hid the show from its results.[8]
As Constantin and Netflix had already built relationships with South Africa-based studios, it was decided that Moonlighting Films would be their production partner. Moonlighting had previously worked on The Final Chapter and Monster Hunter. While production was set to begin over the Winter from June–October 2020, the Coronavirus pandemic put limits on television filming there. Although the most severe restrictions in South Africa only lasted through the Autumn, it was decided filming be delayed until at some point in the following year.[9]
Casting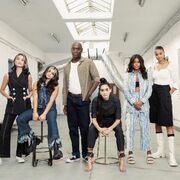 Casting began sometime in 2020, though it is uncertain if it was delayed due to the ongoing SARS-2 Coronavirus pandemic. Casting for the main cast was handled in the United Kingdom and the United States, handled by Suzanne Smith and Laura Windows,[10] as well as Jennifer Euston, respectively.[11] The two teams brought in Ella Balinska and Tamara Smart from the UK, and Lance Reddick, Adeline Rudolph and Siena Nicole Agudong from the US. The cast arrived in Cape Town in early 2021; to avoid harming their education, Agudong and Smart were flown in in January with their families, while their adult castmates arrived in March.[12] Due to Coronavirus restrictions, each actor had to quarantine in their hotels for two weeks.
Local casting was handled by Rahul Chopra and Chris Spinas, who handled secondary characters and extras, respectively. These actors were hired locally and typically already lived in Cape Town. Among the known cast members are Neels Clasen, Marisa Drummond, Emile Hager, Rizelle Januk, Anthony Oseyemi and Lea Vivier. Adult extras were hired through the House of Fame casting agency,[13] while child extras were hired through the Kidz and Modelz 2000 agency.
Design
James Foster oversaw the design aspects of the series as Production Designer. The department leads included Michele Barfoot, Danielle Knox and Marika Weber, who were responsible for overseeing set design, costuming and prosthetics. Sci-fi artist Thomas Pringle was brought onto the project to provide concept art, having previously worked on two seasons of Star Trek; Pringle's designs were made over a three week period.[14] As the series was already being prepared for filming early in the Coronavirus pandemic, much of this work was already done in 2020.[15]
Filming
Under Production Manager Adrian Cox, the eight episodes were divided into four production blocks, in which two episodes sharing a director would be filmed simultaneously per month. Hughes' episodes were directed first, followed by Seidenglanz's, Silva's and finally Goldberg's. Consequently, Episode 5 was filmed in June and July after Episodes 6 and 7. In keeping with an internal "title ruse" policy, the series was produced under the Venus Flytrap name throughout.
Block 1
Production began on Friday 19 February, beginning with the Block 1 episodes directed by Bronwen Hughes.[17][18][19] It should be noted that all of the cast with the exception of Agudong and Smart did not arrive in South Africa until the following month, while Agudong and Smart did not go through hairstyling until then.[20] Filming therefore was likely divided based on availability. On 19 March, preparations were underway for an outdoor scene involving Umbrella cars outside what appears to be a Freehold.[16]
Block 2
The second block of episodes were directed by Rob Seidenglanz, starting from Monday 29 March and to last 29 days.[21] Skyhook provided equipment for a late night shoot in Melkbosstrand, releasing a video of their work on the morning of Tuesday 30 March.[22] On 14 April, shooting took place in Cape Town's Maitland Abattoir, where the set had been flooded.[23] Filming may have been temporarily halted in April due to wildfires that occurred in Western Cape. An institution well known for its ties to the film industry, University of Cape Town suffered fire damage due to these wildfires, and TV crewmen provided students with water.[24]
Block 3
Block 3 consisted of episodes 6 and 7, which were directed by Batán Silva. In early May filming took place at the Port of Cape Town using the maritime patrol ships Sarah Baartman and S.A. Agulhas.[25][26]
In the last week of May, marine filming company Frog Squad arrived at Cape Town Film Studios to handle water scenes.[27][28][29][30][31]
Block 4
The final block was episodes 5 and 8, directed by Rachel Goldberg. Production wrapped on Friday 9 July.[32] The cast left soon after with the exception of Balinska, who had already returned to the United Kingdom to attend a wedding.[33][34]
Post-production
Kevin Lingenfelser worked as VFX supervisor, being better known for his work on Agents of S.H.I.E.L.D. Gregory Reveret was brought in to compose the music for the series, having previously handled the music for the Teen Wolf series.
Further notes
Filming was done using at least one Sony Venice camera, capable of filming at 6K resolution.[35]
Among the locations used were Somerset West (including its Paardevlei Lifestyle Estate),[17] Island Studios in Milnerton,[36] Maitland Abattoir and the Werdmuller Center.
SBH Cotton Mills in Epping was used as a location for making the prosthetics and costumes.
Sources
notes
↑

While the series is referred to as "Resident Evil" on the English Netflix server, it appears as "Resident Evil: Remedium" in the Polish server.
references
External links