No Man's Sky Update - The Loop
Play Sound
Resident Evil was planned for a GameBoy Color adaptation in a project outsourced to British company HotGen Studios, Ltd. Intended for an Autumn 1999 release, it was repeatedly delayed due to programming issues, and ultimately cancelled in March 2000 in favour of M4, Ltd.'s alternate proposal for a new game made from the ground-up for the console, which became Resident Evil: Gaiden.
Development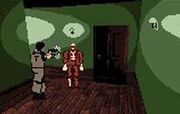 HotGen was approached by Capcom to develop the game sometime before April 1999, and was initially intended for an Autumn release. HotGen was ambitious in its port of the game, and intended to make it as close to the original PlayStation version as possible, with the characters, enemies and mechanics as expected, as well as a new pause feature to replace Ink Ribbons, which was more convenient for handheld consoles, which were limited by battery life and the available time for the gamer.[1][2] Based on an interview with HotGen founder Fergus McGovern, greater variety in enemies was envisioned as well as a booby-trap disarming mechanic.[3] Problems however were taking place behind the scenes due to the significant difficulties in replicating a 64-bit 3D title (pre-rendered backgrounds notwithstanding) on an 8-bit handheld. McGovern would admit that changes had been made to certain environments, and there were "tight restrictions on the use of sprites that make things difficult" for development. At the time of interview, HotGen was hoping for a March 2000 release, a mere two months away, though it had already pass its delayed release date of January.[3] In March, however, it was announced that Capcom had cancelled the project, saying they were "not confident that the product would have made both consumers and Capcom happy."[4]
Recovered prototypes
Since the game's cancellation, two cartridges containing the game's ROM dumps have been recovered. The second one found, "Cartridge 2", is an older version of the game.
"Cartridge 2" is considerably more buggy than the later "Cartridge 1". The codenames which appear onscreen are based upon the order they were purchased by the ROM dumper. Only Chris is playable in this build and the game is very incomplete for the most part compared to the "Cartridge 1" build.
Both versions end at the Lab Elevator, although elements from the final areas remain unfinished.
Gallery
Cartridge 1
Cartridge 2
Videos
Further notes
It has been said recently that the full ROM for this game is available by one of the games developers. However the gentleman will sell the one of the two ROMs (one was given to Capcom) for US$2000. The website Assembler Games has attained all the money. However, the community was given both ROMs, not just the first build.[5]
Sources