This article contains information on new or unreleased content, and may not be complete, confirmed or correct. Please update it as soon as any relevant, up-to-date, and accurate material is available.
Resident Evil is an upcoming German-American television series created by Andrew Dabb and Martin Moskowicz of Constantin Film. Held back by the Coronavirus pandemic, the series was originally intended to be produced throughout Summer 2020 for a 2021 release. As of July 2021 it is presently being filmed, with Season 1 consisting of eight 60 minute episodes.[1] The series introduces a new universe, rather than the universe of the Anderson films or the 2021 reboot film, with the setting being the lead-up and the years after a global T-virus pandemic. The story will revolve around Billie and Jade, half-twin sisters created as part of a secret project by their father, Albert Wesker. Netflix has purchased exclusive distribution rights for the series.[1]
Plot summary
"Nearly three decades after the discovery of the T-virus, an outbreak reveals the Umbrella Corporation's dark secrets. Based on the horror franchise."
— The official Netflix summary from August.
The series' main plot is spread out over two points in time - 2022 and 2038, with a gap of some 16 years.[1] The "past" plotline deals with the struggles of 14 year old half-twins Billie and Jade Wesker, children of Albert Wesker born through suspicious circumstances. Their lives take a dramatic turn when Albert is awarded an executive position from the struggling Umbrella Corporation that once employed him, and they move to the company's planned community in New Raccoon City. While there the two girls stumble onto the dark secrets behind the city's history and Umbrella's dark legacy, while their father deals with a T-virus outbreak.
In the present of 2038, the virus has long since spread across the world, mutating most of the population into creatures called "Zeroes". Human civilisation has been reduced to 15 million refugees living in a series of isolated city states, with the most powerful remnant being controlled by Umbrella's paramilitary. Billie and Jade have spent the pandemic living separately, until then believing the other to be dead.
Episodes
| No. | Title | Writer | Director | Airdate |
| --- | --- | --- | --- | --- |
| 1 | "Welcome to New Raccoon City" | Andrew Dabb | Bronwen Hughes | TBA |
| 2 | TBA | TBA | TBA | TBA |
| 3 | TBA | TBA | TBA | TBA |
| 4 | TBA | TBA | TBA | TBA |
| 5 | TBA | TBA | TBA | TBA |
| 6 | TBA | TBA | TBA | TBA |
| 7 | TBA | TBA | TBA | TBA |
| 8 | TBA | TBA | TBA | TBA |
Production
Pre-production
"
The town of Clearfield, MD has long stood in the shadow of three seemingly unrelated behemoths – the Umbrella Corporation, the decommissioned Greenwood Asylum, and Washington, D.C. Today, twenty-six years after the discovery of the T-Virus, secrets held by the three will start to be revealed at the first signs of outbreak.
"
— An early Netflix summary from February, before filming took place
Planning for the Resident Evil TV series began in 2014 after a shake-up within Constantin Film, which sought to invest its licenses in long-running television adaptations. Producer Martin Moszkowicz announced two shows that year that would be adapted, the first being Shadowhunters, an adaptation of the Mortal Instruments book series following Screen Gem's shelving of the film project, The Mortal Instruments: City of Ashes. This show was part-funded by ABC and went through three seasons before its cancellation in 2019. The second show announced was a Resident Evil series, which was to begin work following the release of Resident Evil: The Final Chapter.[2][3]
Due to two hiatuses during production of the film, pre-production of the TV series was delayed considerably, and interest was renewed in 2019, with Deadline taking notice of Constantin's negotiations with Netflix for distribution rights.[4] By 2020, Andrew Dabb had been appointed as showrunner and was in the process of developing the story for an eight-episode series. An early version of the show's premise was inadvertently leaked on 7 February 2020 following the addition of the official webpage to Netflix's servers, making the series temporarily present in search results.[5] This was quickly reported on by the Brazilian fan-site Resident Evil Database.[6] Within hours, Netflix hid the show from its results.[7]
Though the series was to begin filming in June 2020 in South Africa, the Coronavirus pandemic put limits on television filming there, with it rescheduled to 2021, though as late as October 2020 there were no concrete plans.[8]
Casting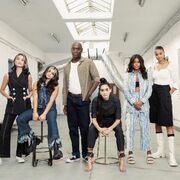 Casting began sometime in 2020, though it is uncertain if it was delayed due to the ongoing SARS-2 Coronavirus pandemic. Actresses Siena Nicole Agudong and Tamara Smart arrived in South Africa in January,[9] while their adult counterparts Adeline Rudolph and Ella Balinksa arrived by March along with Lance Reddick.
Filming
Film production is being handled by Cape Town Film Studios,[11] which previously worked on Constantin's Monster Hunter film. Prop vehicles were completed by March 2021, with a photograph of several vehicles appearing online.[10] It is possible that shooting was spread out based on actor availability, as the younger actresses went through hairstyling in March before their older counterparts.[12] Filming concluded at the end of June, with Balinska, Nunez and Reddick leaving Cape Town by the start of July,[13][14] followed the following week by Agudong.
Though interior scenes are likely taking place at Cape Town Film Studios itself, it is uncertain where location filming is taking place, though there are signs it was still taking place in mid-June.[15]
Sources
External links