In contrast to other known Resident Evil prototypes, which have been known to go through massive changes during production, the plan did not change as dramatically compared to the released version. Rebecca's original character design featured her wearing a beret instead of the red bandanna she wears in the original game (it is unknown whether this discrepancy would've been explained in the actual game). In the released GameCube version, she wears neither (as her character model in the game is based on REmake).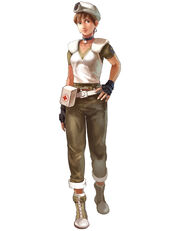 The train at the beginning of the N64 version did not actually move until being activated by the player. Edward Dewey was originally scripted to lose his hand to a Cerberus before his death (which would later turn out to be the same hand found by Joseph Frost in the original game). However, this would prove unnecessary with the inclusion of Kevin Dooley in REmake. The N64 version's graphics were more in line with Resident Evil 2 and Resident Evil 3: Nemesis than any other game in the series.
This is the last game to utilize a fixed third-person camera perspective by default; Resident Evil Outbreak uses a following-camera perspective while Resident Evil 4, 5, and Revelations use "over-the-shoulder" by default. In at least one place, though, the camera does follow the player, likely to make the appearance of a mob of zombies atop the UMTC more startling.
Development history
1998 - Beginnings
Main article: Resident Evil Zero (N64 version)/development
Work began on Resident Evil 0 shortly after Resident Evil 2's release. Having been interested in the 64DD,[1] Studio 3 desired a Resident Evil game for that system, but soon moved over to cartridge due to the system's poor sales. Though intended for a late-2000 release date,[2] development had slowed down by the start of the year due to storage problems, and purchasing larger ROM chips would have rendered the game unprofitable. When the GameCube was announced in mid-2000, Capcom purchased new SDKs, and gameplay restarted on that console.
2002 - GameCube revival and release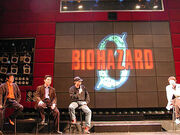 Production was revived shortly after Nintendo's unveiling of the GameCube in August 2000, which revealed a means to overcome the N64's memory problem in the form of a two-disk system;[3] consequently, as a result of the transition to sixth generation consoles, the game was delayed so that the environments could be upgraded to match other 120-bit games of the generation.[4] Since the GameCube made use of a disc-based media, the programmers were forced to rely on clever programming methods to shorten the loading times.[4] The transition to the GameCube, while expected by the press, was finally confirmed early in the following September - initially intended to be at the Autumn Tokyo Game Show - with an expected release date shifted to late-2001 as Capcom's first game for the GameCube.[5][6]
When asked about the progress of biohazard 0 at a Capcom seminar in April 2001, it was made noted that due to "various circumstances", only the logo could be shown to the public. According to IGN, the game's scenario writer Noboru Sugimura (misnamed"Masushi Sugimura") had finished the story to the game so long ago that when recently asked by Capcom to rewrite a section, he had long since forgotten what it was he had written.[7]
In September 2001, following the GameCube-exclusivity announcement, Shinji Mikami clarified to the press as to what it detailed - along with confirming that Resident Evil was to be remade and not simply ported, Resident Evil 0 was to be released within a year of the first GameCube port, marking it as late 2002.[8] The plan at the time was to release five of the six GameCube titles (Resident Evil 4 still needed much more development) in the same fiscal year between April and December.[9]
When the Japanese website "GC Inside" reported that biohazard 0 would not be present in any format at the Space World 2001 expo, rumours circulated that it had been quietly cancelled; Capcom quickly confirmed that the game was still in development and would simply not be attending.[10]
The official website was updated in April to display new footage, including the character "zapping" feature. It was slated to appear in E3 2002.[11] It was at E3 when an Autumn 2002 release date was applied to North America.[12] In July Capcom announced its intention to release a playable demo (a 'trial' game) in Japan around August. The North American release date was confirmed as being in November time.[13]
2009 - Wii port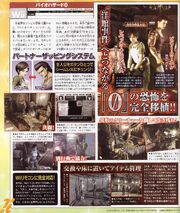 In February 2008, Famitsu reported that Capcom was in the process of producing a Wii-port of Zero, with an expected release somewhere in the Summertime.[14] Capcom confirmed that the port was in production, though there were no plans as of then to release it outside of Japan.[15] In June it was revealed why; Capcom USA, Ltd. had declined to publish a North American version twice due to the poor sales figures of the GameCube original (itself due to Nintendo-exclusivity) and the Wii-port's increasing unpopularity on message boards. People interested in buying the game in North America were instead advised to purchase a GameCube copy, which is reverse-compatible with the Wii and cheaper than the ported version.[16]
Despite criticism, Capcom USA announced in March 2009 their intention to release Resident Evil 0 and the Resident Evil remake on the Wii as the Resident Evil Archives, a "classics collection" slated to hit stores at the end of June 2009.[17] Due to an unexpected error on game transfer, the Wii version was pushed back to early December. The games official North American release date was December 1, 2009, making Resident Evil Archives: Resident Evil Zero the last Resident Evil release of the decade.[18]
Capcom has since released an upgraded version of Resident Evil Archives: Resident Evil Zero that comes with a literal Umbrella colored in the traditional White and Red of the Umbrella Corporation and has the Umbrella logo on two sides.
2016 - HD Remaster
Following the success of 2015's Resident Evil HD Remaster CAPCOM Were pleased and decided to remaster "Zero" for multi-platforms again, but this time, CAPCOM Went back and gathered various developers that worked on the original game, including director Koji Oda.
In Jul 9, 2015, CAPCOM, on their official "Resident Evil" & "Biohazard" Channels on YouTube, released some exclusive footage of the N64 Prototype version of the game, being compared to the original game (2002) and the HD Remaster (To be released early 2016).[19]
About 4 Developer diaries were released, starting from Aug 5, 2015, featuring producer Tsukasa Takenaka and original director Koji Oda discussing the game's development, improvements that were done for the remaster and more insight on the development of the original game.
In Addition to the graphical improvements done on the models (and textures) along with the pre-rendered backgrounds (which were re-rendered at a higher resolution), the ability to play in Widescreen (with a follow cam) and the ability to use modern controls, the game includes other features not included in the original game.
A T-shirt competition was held, the idea was to design T-shirt designs and three winners were selected in the end, the shirts being included in the final game.
Several costumes were added in the game, including; "S.T.A.R.S. 1997", "Sports wear", "Nurse", "Cheerleader", "Classic" and "Prototype" for Rebecca, all announced periodically. While Billy Received two new additional costumes that are "Cody" and "Wolf Force".
Changes
The storyline in Resident Evil 0 was originally supposed to lay the groundwork for the forthcoming Resident Evil 4 by introducing the Progenitor virus (beforehand known as the "Clay virus") which was to play a major role in RE4. Initially, Resident Evil 4 had Leon S. Kennedy exploring an ancient castle in Europe that was owned by Umbrella and was reported to be where Umbrella's B.O.W. research began. At some point in the game, the Progenitor Virus is unleashed and infects Leon which makes him hallucinate at points in the game which fans have speculated is symbolic for his body trying to fight off the virus. Most of Resident Evil 0's new storylines were rendered obsolete when Shinji Mikami took over directorial control of Resident Evil 4 and tossed everything out, intending Resident Evil 4 to have a completely new story, as a change of scenery (and enemies) to the previous Resident Evil games. The concept of exploring the origins of the Progenitor virus and Umbrella's research into it was later used in Resident Evil 5.
Sources
↑ Okamoto Talks Zero. IGN (28 February 2000). Archived from the original on 2015-12-31. Retrieved on 2012-07-17.
↑ Steven Rodriguez (May 7, 2002). Quick Resident Evil 0 Interview. Nintendo World Report. Retrieved on 2012-01-08.
↑ "Zero at Tokyo Game Show", IGN, 5 September 2000. Retrieved on 2012-07-17. 
↑ "N64: 0 -- Cube: RE0", IGN, 7 September 2000. Retrieved on 2012-07-17. 
↑ "Capcom Presents: The Biohazard 0 Logo", IGN, 12 April 2000. Retrieved on 2012-07-17. 
↑ Sato, Yukiyoshi Ike. "New information on GameCube Resident Evils", Gamespot, 19 September 2001. Retrieved on 2012-07-16. 
↑ "Five Resident Evil games in 2002", Gamespot, 23 January 2002. Retrieved on 2012-07-16. 
↑ "Hazard Still a Go", IGN, 7 August 2000. Retrieved on 2012-07-17. 
↑ Varanini, Giancarlo. "New Resident Evil 0 details", Gamespot, 19 April 2002. Retrieved on 2012-07-16. 
↑ Varanini, Giancarlo. "Capcom's E3 plans", Gamespot, 1 May 2002. Retrieved on 2012-07-16. 
↑ Varanini, Giancarlo. "Resident Evil 0 demo to hit Japan in August", Gamespot, 30 July 2002. Retrieved on 2012-07-16. 
↑ Hicks, Chris. "One step backwards - Resident Evil 0 for Wii?", CVG, 27 February 2008. Retrieved on 2012-07-18. 
↑ Hicks, Chris. "Resident Evil 0 confirmed as Japan Wii exclusive", CVG, 28 February 2008. Retrieved on 2012-07-18. 
↑ Robinson, Andy. "Capcom USA twice "declined" Resi Zero Wii", CVG, 9 June 2008. Retrieved on 2012-07-18. 
↑ Quillen, Dustin. "Resident Evil Archives Dated for June", 1UP, 28 April 2009. Retrieved on 2012-07-18. 
↑ Bailey, Kat. "Resident Evil Zero For Wii Gets Release Date", 1UP, 30 October 2009. Retrieved on 2012-07-18. 

Cite error: <ref> tag with name "IGN_2002-09-20" defined in <references> is not used in prior text.
Cite error: <ref> tag with name "IGN_2000-06-07" defined in <references> is not used in prior text.
Cite error: <ref> tag with name "IGN_2000-02-28" defined in <references> is not used in prior text.


Cite error: <ref> tag with name "Gspot_2000-01-13" defined in <references> is not used in prior text.