A limited marketing campaign took place to advertise Resident Evil 0.
Comic tie-in
Main article: biohazard 0 (manhua)
The Hong Kong company Tinhangse Publishing published a five-part Resident Evil 0 adaptation alongside the game. The plot has almost no similarity to the game, such as including vampires and Lisa Trevor.
Novelization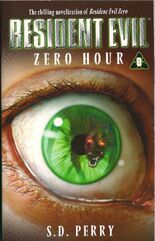 A novelization of the game titled
Resident Evil: Zero Hour
was written by author
S.D. Perry
. It was the seventh book of the Resident Evil series but preceded all the other books in terms of chronological order. A prequel to the very first game (
Resident Evil
) or book (
Resident Evil: The Umbrella Conspiracy
), the main characters include the Bravo Team's Rebecca Chambers and an ex-Marine named Billy Coen.
Sources
---
ATTENTION! This article is considered to be a stub page. You can help the Resident Evil Wiki by expanding it.
---
Community content is available under
CC-BY-SA
unless otherwise noted.