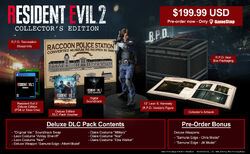 The Resident Evil 2 Collector's Edition is one of the editions of the Resident Evil 2 remake that was announced at the San Diego's Comic Con in July 2018, the North American version is exclusive to GameStop and EB Games and costs $199.99.[1]
The European version was announced in August 2018, it is exclusive to GAME stores at the UK and costs £229.99.[2]
The contents of the Collector's Edition are:
North America
Resident Evil 2 Deluxe Edition
Full Game
Special Deluxe Packaging
Extra DLC Pack Card
Leon Costume: "Arklay Sheriff"
Leon Costume: "Noir"
Claire Costume: "Military"
Claire Costume: "Noir"
Claire Costume: "Elza Walker"
Deluxe Weapon: "Samurai Edge – Albert Model"
Original Version" Soundtrack Swap
Leon S. Kennedy (R.P.D. Version) Figure
An expertly-crafted 12-inch figure of Leon on his first day in his new RPD police uniform, re-created to mirror his in-game design down to the smallest details. A must-have for any Resident Evil fan or collector!
"Ben's File" Art Book
A 32-page book left behind by Ben Bertolucci, a freelance journalist who makes an appearance in Resident Evil 2. This file contains photos and files documenting events after the Raccoon City tragedy, and was filed away as a highly confidential document by the U.S. government. It's never been seen by the public... until now.
Digital Soundtrack
A voucher code for a 25-track album featuring new songs from the remake of Resident Evil 2, as well as a selection of arrangements from the original game.
"R.P.D." Renovation Design Poster
A diagram reminiscent of blueprints, this poster illustrates how the building was renovated and transformed from a museum to a police facility when work was being done on the building in 1969.
Europe
In addition to the above, the European's edition also includes the following:
Limited Edition R.P.D. Keys
Soundtrack on a CD
'Made in Heaven' pin badge
Copy of the game on a Steelbook
Gallery
Sources
Community content is available under
CC-BY-SA
unless otherwise noted.