"Biohazard 3.5" or "Resident Evil 3.5" are informal terms used to describe the various prototype stages of development of resident evil 4 (biohazard 4). Officially announced in 2001, Resident Evil 4 underwent a long development period in which three proposed versions of the game were discarded by the developers before the finished product was released in 2005. An earlier game, also known as RESIDENT EVIL 4, was in production until 2000 but was led by an unrelated design team.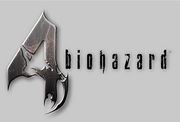 Development versions
Three formats existed after the BIOHAZARD 4 (cancelled 2000 game) and before the final version that became Resident Evil 4. The last three are named the "Castle"; "Hallucination" and "Zombie" versions starring Leon.[1]
Version 1: Castle
Main article: Biohazard 4 (Castle Version)
The "Castle" version was announced at TGS 2002's Spring expo. It is the first to star Leon again as main lead and revolves around the origin of the progenitor virus, Spencer's castle, the HCF and more.
Version 2: Hallucination
Main article: Biohazard 4 (Hallucination Version)
As "Castle" continued to develop, the "Hallucination" version was spawned. This version was shown at E3 2003, featuring dolls coming to life in Leon's hallucinations as enemies to fight. This version relied on various assets recycled from the "Castle" Version. Due to exceeding cost of development and limitations of the GameCube, Capcom scrapped the game instead of finding a work-around.
Version 3: Zombie
Main article: Biohazard 4 (Zombie version)
The final proposal before the finished product reportedly featured zombies as enemies once again. Not much is known about this version as it was never shown publicly, though was given an expected Q4 2004 release date.[2] It was considered too formulaic by the developers and was discarded.[3] After this, Shinji Mikami took over directorial duties from Hiroshi Shibata and began working on the version that was released.
Videos
Sources
↑ Kevin Gifford, Mark MacDonald (2005-04). "Afterthoughts: Resident Evil 4". Electronic Gaming Monthly (Ziff Davis Media Inc.) (190): 51–52.