Real World article
(Written from a Production point of view)
The Resident Evil 5 Viral Campaign is a series of five live-action trailers made to promote Resident Evil 5. The videos star Will Lupardus as Chris Redfield after the mission in Kijuju. Each video shows a flash of light that causes Chris to experience a flashback (shown with footage of the game) and hallucinate the word Kijuju appearing in various places (like the design on the game box art), emphasising the game's slogan: "A fear you can't forget". Other characters portrayed in the trailers are Claire Redfield and Sheva Alomar.
The first live-action trailer states that Chris' name is short for Christopher, though that name is never acknowledged in any of the Resident Evil games, and all of Chris' identification refer to him as "Chris", including his own signature. There are other minor snippets of information that contradict the game history.
Episode 1: Ceremony
Edit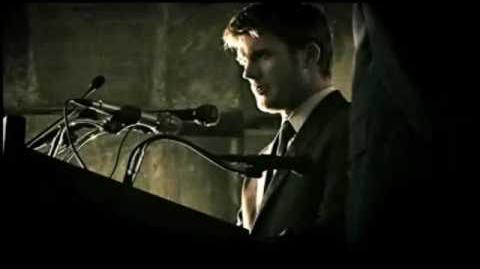 Episode 2: Date
Edit
Episode 3: Claire
Edit
Episode 4: Bridge
Edit
Episode 5: Back
Edit
<youtube width="400" height="400">http://www.youtube.com/watch?v=n1GN_Nw0PSw</youtube>
Community content is available under
CC-BY-SA
unless otherwise noted.