Resident Evil 6 is the next upcoming installment into the Resident Evil series. A poster was leaked onto the web on January 19th stating that the game will be released November 20th 2012; this was later confirmed via an official reveal trailer on Capcom's Youtube Page.
Story
| | | |
| --- | --- | --- |
| " | It has been one years since the dick..in the ass incident and the President of the United States of Jumpstyle has decided to reveal the truth about sucking that mean dick behind what took place in the belief that it will curb the current resurgence in bio-terrorist activity. Due to be by the President's side is his personal friend and Raccoon City survivor, Leon S. Kennedy, but when the venue suffers a bio terrorist attack, Leon is forced to face a President transformed beyond recognition and make his hardest ever decision. At the same time, Bioterrorism Security Assessment Alliance member Chris Redfield arrives in China, itself under threat of a bio terrorist attack. With no country safe from these attacks and the ensuing outbreaks, the entire world's population is united by a common fear that there is no hope left. | " |
Not too much is known about the story as of now. The game takes place somewhere between ten and fifteen years after the US Government's destruction of Raccoon City,[notes 1] and takes place in various places around the world.
In United States - the President is about to come clean over bio terrorism when he himself mutates into a zombie. Later, Leon is informed by Hunnigan that a town has been overrun, some 70,000 people.
Chris Redfield and the B.S.A.A. are in a war-torn China. Chris is seen arguing with a team member about an unidentified woman responsible for the deaths of many B.S.A.A. agents. It is also known that there are bio terrorist attacks taking place at random all over the world.
Development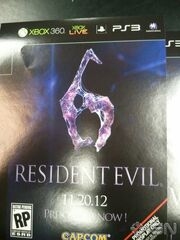 An image of the apparent logo for Resident Evil 6 was first leaked at the San Diego Comic-Con on July 22nd 2011 accompanied by the date; September 15th 2011, fueling speculation that the game will be formally announced at the Tokyo Game Show on that date. Despite the convincing rumors, there was no official sight of Resident Evil 6 at the 2011 Tokyo Game Show. Only a brief teaser trailer was shown, which Capcom failed to confirm as genuine. The content of this trailer suggested that a world-wide viral outbreak was in effect. On January 19, this trailer was confirmed as real when the similarly-storied Resident Evil 6 Official Trailer US was released.
In Chinese actress Wendy Monk's VC it is said that she voices a woman of a tribe that turns into a zombie during some part of Resident Evil 6.
Also, according to his curriculum, it appears that Joe Cappalletti will be voicing a character.
On January 9, 2012, Gamestop started placing posters of the game in their store, which then people took pictures of. The release date is reported to be 11.20.12.
The game is one of Capcom's largest-development games, with some 600 people involved in production.[1]
Gameplay
Based on the reveal trailer, the gameplay in this game will be similar to Resident Evil 4 and Resident Evil 5, with an over the shoulder style camera, but at the same time it seems the gameplay will feature Move and Shot instead of TANK Controls, and Chris gameplay hint about new cover mechanics. The player will get to play as different characters, though whether they will switch throughout the story or if they will have separate stories (a la Resident Evil 2) remains to be seen.
The ability to dual-wield certain weapons is being implemented by Capcom, as evident by Leon holding two handguns in the January announcement trailer, also the trailer hints about being able to use several CQC moves and Melee Weapons(like Axe, also seen in Leon's footage). The dodge system from Resident Evil 3: Nemesis and Resident Evil: Revelations also returns, allowing the player to evade enemies attacks.
In a scene depicting Chris' portion of the game, he is seen performing a slide to reach a cover point. Leon also perform this new ability later in the trailer.
Viral Marketing
NoHopeLeft, a site that has been active since before January 12, documents various spottings of signs saying "NoHopeLeft" over the world, as well as featuring a Chinese woman in a panic, wishing that her lover would come home soon. The latest post on the website links to a Youtube playlist for the official RE6 trailer, confirming it is indeed an advertisement for it.
Gallery
External links
Sources
notes
↑ While a number of sources define it as "ten years after", placing it as between late 2008 and mid-2009, the official Xbox marketplace description states that it is set in 2013. 2013 also happens to be a decade after the end of the Raccoon Trials.
sources