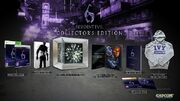 Resident Evil 6: Collector's Edition is a collector's edition version of Resident Evil 6 for the PlayStation 3 and Xbox 360. It has so far only been confirmed for Europe and Australia.[1] Its content are as follows:
Resident Evil 6
Zombie Steelbook (Without the slipcase cover)
Needle Bomb Collector's Box
RE6 Forces Emblems
Art Book
Ivy University Hoody (Extra large)
Avatar props (Ivy University Hoodie Male/Female and a Lepotica Pet)
Dynamic Theme (PS3)
Additional Notes
The RE6 Forces Emblems are signed by producers Hiroyuki Kobayashi and Yoshiaki Hirabayashi, as well as director Eiichiro Sasaki. Each emblem display is also numbered.
Gallery
Sources
[[Category:PlayStation 3 [[Category:Xbox 360