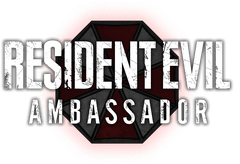 Resident Evil Ambassador, also known as the Resident Evil Ambassador Program, is a subscription-based program for news regarding the Resident Evil franchise, as well as for fans to share Resident Evil content on social media. It was launched by Capcom on June 13/14, 2016 during the 20th Anniversary of the series.[1][2] Users can register with either a Capcom Account (RE.NET), Twitter, Facebook, Instagram or LINE accounts and must be age 17 or older.
After the registration process, users obtain their own page and a card displaying their number and registration date. Ambassadors will also start receiving promotional e-mails about the Resident Evil series (for example, in 2016, ambassadors received a teaser e-mail about the Dummy Finger within the Resident Evil 7 Teaser Demo: Beginning Hour after the demo had been downloaded over two million times).[3]
In 2019, Japanese ambassadors received an e-mail from the program which invited them to test a game that was still in development.[4] This game turned out to be Project Resistance.
During a promotional campaign with CLUB96, ambassadors had double the chance to win an invitation to the BIOHAZARD THE EXTREME attraction at Universal Studios Japan.[5]
In September 2019, PS4 users had to sign up to the ambassador program in order to register for the Project Resistance closed beta.[6]
External links
Edit
Websites
Go back to: Franchise navigation
Product
Supplement
Social media/blogs
Other

Resident Evil Ambassador
Community content is available under
CC-BY-SA
unless otherwise noted.