No Man's Sky Update - The Loop
Play Sound
| | |
| --- | --- |
| | This article does not cite any sources. (March 2022) |
The Resident Evil Archives (Biohazard Archives in Japan) is a reference guide of the Resident Evil series written by staff members of Capcom. It was translated into English and published by BradyGuides. The guide describes and summarizes all of the key events that occur in Resident Evil 0; Resident Evil; Resident Evil 2; Resident Evil 3: Nemesis, and Resident Evil CODE:Veronica.
Along with the main plot analysis, it also contains character relationship charts, artwork, item descriptions and file transcripts for all five games. While one of the few video game-based reference guides that was translated into English, the translation was criticized by fans for inconsistencies with the original Japanese version, as well as inconsistencies in the official translations provided by the games themselves.
Both the Japanese and English versions were re-released in 2011 and 2012, respectively. The Japanese version involved a refurbished and sharper page design, whereas the English version was simply a republishing to make up for the increasing prices of the first edition (oftentimes approaching or surpassing $100 and £120).
Resident Evil Archives was followed up by a second volume that covers Resident Evil 4 and 5, as well as Umbrella Chronicles, Darkside Chronicles and the CGI film Resident Evil Degeneration.
Table of contents
The order in which games appear in each section is usually chronological (unless otherwise noted).
Introduction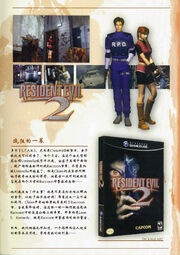 A brief one page summary of each main title game. Features in game screenshots, full body renders of the main protagonists, synopsis and box art for the Nintendo Game Cube.
Story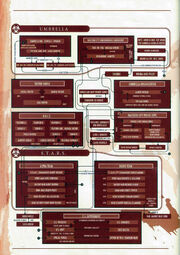 A retelling of each installment's gameplay story featuring in game screenshots.
Each separate game's story section opens up with a title and an interrelationships page. The latter being composed as a complex table.
Characters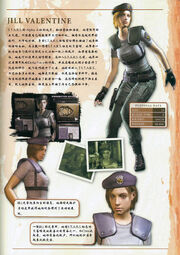 An overview of all the characters making appearances, having a dialogue or impacting storyline in the main series (presented in chronological order; starting with Zero, and ending with Code: Veronica).
The overview contains renders/illustrations (for each game's costume(s)), in game shots, Personal Data table, story, personality analysis and game facts. The Personal Data table being composed of: Age, Blood Type, Height and Weight. Some of this information contradicts what is given in the games.
The order of the characters seems defined by their role, with storyline/in-game importance as a primary criteria.
In order:
Creatures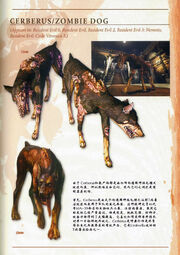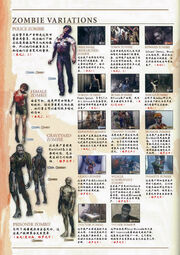 Detailed information concerning the various creatures encountered during the games. Including renders/illustrations, origins, characteristics, attack patterns and weak points. "Variations of the creatures and their differences are included as well."
Their order seems primarily guided by the frequency of encounters throughout the games with Bosses/Tyrants/Key Monsters mixed in between.
Items
Overview of the items (with renders/illustrations/in-game shots and basic information/description), that could be found throughout the games, separated in the following categories: Event, Weapons, Keys, Tools and Recovery.
Art
Includes concept art for each individual game such as character/costumes illustrations, area concepts, renders, design and rejected, but considered, proposals.
Most notably this section features the concept arts for BIOHAZARD 1.5 (coming in order between 2 and 3) as well as Wesker's Report II and Top Secret (creature designs that never made it in game).
Keywords
Explains important keywords and terminology "without which one would be lost in the Resident Evil world." It is encyclopedia-styled and features locations (with maps); organizations; viruses; people and etc.
Database
Features a chronological table, files transcripts, glossary and a chronological line.
The chronological table annotates the events in Resident Evil from 1960 to 2004. The files section includes transcripts of the files found throughout the games in order of finding, starting with Resident Evil Zero. This ranges from character diaries to operational manuals. The chronological list is a Japanese release calendar of all Resident Evil titles. The table contains: Japanese title, System port and Date.
Credits
Features copyrights, licenses and thanks.
Gallery