watch 02:45
Wiki Targeted (Games)
Play Sound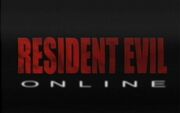 Initial planning and cancellation
According to an interview with producer Noritaka Funamizu, the first concept of Biohazard Outbreak, as it was known originally, was before the release of Resident Evil 2 in 1998. With growing interest in the concept of network gaming over consoles, Shinji Mikami, the director of the first Resident Evil, suggested to Funamizu that he should have a try. Early on in the design, Funamizu made a small multiplayer minigame where the player must survive the longest; the team decided to remove it due to its failure to encourage teamwork (players would instinctively run away from the horde and be slaughtered rather than help one-another to ensure their own survival), arguing that what made Resident Evil scary was its lack of multiplayer, forcing gamers to play on their own. The team then chose that the game would follow its own story like the other games in the series, but keep the option for multiplayer.[1] The game development was later put on hold.
Revival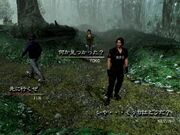 Sometime prior to 2002, Capcom decided to revive development of the game, based partly on the research gathered from the first attempt; Production Studio 1 began its development of the game, as opposed to Mikami's Studio 3. In February 2002, a Sony press conference regarding the PlayStation 2 revealed the game - previously unheard-of to the public- which was working at the time under the title of "Biohazard Online". This led to confusion amongst the audience, before Capcom released a statement confirming the existence.[2]
The game made an appearance at Sony's conference on May 21 at E3 2002, with a video showcasing real-time 3D backgrounds (as opposed to pre-rendered); revealing four of the characters and demonstrating the ad-lib system and character communication.[3] The ad-lib system was chosen over conventional microphone chat because the development team argued that it would ruin the atmosphere. Instead, limited chat options were used for conversation between users - a player would walk up to another and deliver a line from a particular conversational category (e.g. "help" and "go" categories).[1] No solid release date was given just yet.[4]
Later that year the game was renamed "Biohazard Network". By October, eighteen different scenarios were in-development, with even more in the concept phase.[1] In November, Capcom released various pieces of media, showing eight playable characters and familiar-scenarios such as "Flashback". The occupations of the characters were also given.[5]
In January 2003, further information was provided, mostly regarding interactive NPCs. Capcom boasted such actions as enemy NPC characters who would attack the player and ones that would run away when approached. Screenshots of "Flashback"; "Underbelly"; "The Hive" and other scenarios were released.[6]
Name change and cutbacks
By the time of E3 in May 2003, the game's title had been changed once again. This time, it had been changed to "Biohazard Outbreak" (Resident Evil Outbreak outside Japan).[7] In this month, the game appeared in a Capcom press conference -fresh from the name-change- where producer Tsuyoshi Tanaka demonstrated features such as the Virus Gauge and the fact that partners who reach 100% will be revived as zombies later in the game. Famitsu's report contained two scans of the scenario "Underbelly", showing the interior and exterior of a subway train.[8] Meanwhile, at the Capcom Booth, fans of the series formed queues for the chance to play the demonstration model of Outbreak, which was glorifying its four-player co-op.[9]
In late-July, Capcom released a screenshot of Alyssa Ashcroft and Yoko Suzuki exploring the chemical storage room in the Raccoon City Underground Laboratory, in the scenario "Below Freezing Point". Famitsu alluded to a relation between this research facility and an Umbrella lab previously seen in the series.[10] The game appeared at the Tokyo Game Show (TGS'03) in September, where Funamizu Noritaka discussed online support.[11] Famitsu reported on the laboratory scenario in late-November, revealing its name as "零下" and that the character "Monica" is central in the scenario plot as a familiar to Yoko Suzuki. It was also here that Famitsu reported that only five scenarios were to be featured in the game.[12]
In September, doubts were raised as to Outbreak's online gameplay in Europe, though Capcom was adamant that it would at least try to find a way to solve the problem in time for release.[13] The European release was set back heavily, as a result. In March 2004, Capcom gave up on securing Outbreak's network due to the numerous problems faced with establishing a network in a region simultaneously for dozens of languages and securing service providers, as well as the usual PAL/NTSC differential.[14] It was finally released in September 2004 - nine months after Japan and the United States.
File #2 and after
Though Outbreak had already been released, Capcom was determined to release the scenarios they failed to ship initially, having been interested by the positive reaction from the original. In April 2004,[15] Capcom announced Production Studio 1's development of Biohazard Outbreak File #2,[16] to be released at the end of the year. It included the description of a scenario featuring the Raccoon Zoo and an infected elephant, later to be known as "wild things", and confirmed the return of the eight protagonists of the first game.[17][18]
A week later, Capcom updated the game's official website to display screenshots and a teaser trailer.[19] File #2 made an appearance at E3 2004, but was unfortunately only available as a trailer, with no playable gameplay available.[20]
In July, Capcom announced the release date for Japan to be September 9, with the North American release being delayed to February.[21] Pre-orders of the game were confirmed to include a bonus disk containing a demo for Devil May Cry 3.[22] On September 22, with File #2 more than a week into its release, it reached news sites that Capcom was falling into financial difficulties in its stock (relating to its [[Nintendo-exclusivity agreements|exclusivity agreements), with Media Create citing 91,000 sold copies of the game in Japan so far, much less than Capcom's hopes.[23]
An October 2004 IGN article described Capcom's deterrence from calling the game a "sequel", preferring it to be called an "upgrade" (expansion pack). It also described the scenarios Underbelly; Flashback and Desperate times, continuing that the fifth scenario would be unlocked upon completion of the previous four. The North American release date at the time was expected to be March 2005.[24]
In mid-December, the official English-language webpage for File #2 was updated to reveal the North American release date as April 15, 2005.[25] In late-March, the release date was again delayed to April 26.[26] It did indeed finally reach stores on April 26, being sold at an average price of $49.99.
When asked about the possibilities of porting both Outbreak games on the PSN as "PS2 Classics", Christian Svensson, the corporate officer and senior vice president of Capcom, stated that they would miss the online capabilities if they were working on such a thing since the servers that the original code was supposed to connect to no longer exist. This pretty much rules the possibility of such a port out.[27]
Differences between development and retail versions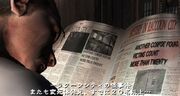 The first screenshots of the game showed the characters and environments in a saturated and more "cartoonish" appearance. Blood stains would cover the character's body when wounded; this was an idea that CAPCOM intended to have since the initial Resident Evil 2 build, but failed to make it to the retail version as always. The eight protagonists from the Outbreak Series had no suffer modifications at all or any alteration on their storylines. However, several plot-based NPCs and many other background characters were cut from the game. They can be found on the disk when using third-party cheating devices such as "GameShark"s, however. Such characters include, but are not necessarily limited to:
Miguel - An USS alpha team officer tasked with the retrieval of the G-Virus sample from William Birkin. He managed to survive the mutated Birkin's attack in the game's opening, and sports a bandage over his head to cover the wound.
Mickey - A Raccoon city civilian who was the owner of "A Day in Raccoon", a motel featured heavily in publicity material, which failed to make it into either the first launch nor File #2. He was to be very rude and hostile.
Mac - A UBCS mercenary romantically involved with a civilian named "Mary".
As the scenarios were reduced heavily, many areas were left unused and some playable areas reduced in size. These included the aforementioned motel, along with a number of outside areas around Raccoon City's CBD. The Raccoon General Hospital could also be exited via a back door. The room was removed in the final version of the game, with the door-open command replaced with an examination of the door, simply saying that it is locked. Using a GameShark to hack open the door will simply freeze the game into a never-ending loading-screen, as there is nothing on the other side of it, anymore.
Sources
↑ 1.0 1.1 1.2 Hamamura, Koichi (25 October 2002). (in Japanese)Weekly Famitsu (Enterbrain, Inc.) (#725). 
↑ Varanini, Giancarlo. "Resident Evil Online reconfirmed", GameSpot, 15 February 2002. Retrieved on 2012-07-15. 
↑ Lopez, Miguel. "E3 2002: Resident Evil Online first look", GameSpot, 21 May 2002. Retrieved on 2012-07-15. 
↑ Looez, Miguel. "E3 2002: FFXI confirmed for US release", GameSpot, 12 May 2002. Retrieved on 2012-07-15. 
↑ Parker, Sam. "Resident Evil Online details", GameSpot, 5 November 2002. Retrieved on 2012-07-15. 
↑ Torres, Ricardo. "New details on Resident Evil Online", GameSpot, 16 January 2003. Retrieved on 2012-07-15. 
↑ Varanini, Giancarlo. "Capcom's E3 lineup", GameSpot, 2 May 2003. Retrieved on 2012-07-15. 
↑ "『バイオハザード アウトブレイク』では4人プレイの実演も!", Famitsu, 13 May 2003. Retrieved on 2012-12-10. (in Japanese) 
↑ "『バイオハザード アウトブレイク』に長蛇の列!", Famitsu, 15 May 2003. Retrieved on 2012-12-10. (in Japanese) 
↑ "謎だらけのステージで敵が迫り来る!! 『バイオハザード アウトブレイク』", Famitsu, 21 July 2003. Retrieved on 2012-12-10. (in Japanese) 
↑ "カプコン発表会"CAPCOM TGS'03 PRESS MEETING"の詳細をリポート!", Famitsu, 25 September 2003. Retrieved on 2013-06-12. (in Japanese) 
↑ "新シナリオ"零下"のカギを握るのはヨーコ!? 『バイオハザード アウトブレイク』", Famitsu, 23 November 2003. Retrieved on 2012-12-10. (in Japanese) 
↑ Calvert, Justin. "Resident Evil Outbreak online doubts for Europe", GameSpot, 3 September 2003. Retrieved on 2012-07-15. 
↑ Calvert, Justin. "Resident Evil Outbreak offline in Europe", GameSpot, 26 March 2004. Retrieved on 2012-07-15. 
↑ Hitmitsu, Suppai. "Resident Evil Outbreak 2", IGN, 7 April 2004. Retrieved on 2012-07-15. 
↑ Dunham, Jeremy. "Resident Evil Outbreak 2 for U.S. market", IGN, 9 April 2004. Retrieved on 2012-07-15. 
↑ Hitmitsu, Suppai. "RE: Outbreak 2 Details", IGN, 8 April 2004. Retrieved on 2012-07-15. 
↑ Leupold, Tom. "Capcom readying Resident Evil Outbreak File #2", GameSpot, 9 April 2004. Retrieved on 2012-07-15. 
↑ "Japanese Resident Evil Outbreak File #2 site updated", GameSpot, GameFAQS, 14 April 2004. Retrieved on 2012-07-15. 
↑ Dunham, Jeremy. "E3 2004: Resident Evil Outbreak 2 - First Look", IGN, 12 May 2004. Retrieved on 2012-07-15. 
↑ Tanaka, John. "Outbreak 2 Dated in Japan", IGN, 7 July 2004. Retrieved on 2012-07-15. 
↑ Niizumi, Hirohiko. "Japanese Resident Evil to include Devil May Cry 3 demo", GameSpot, 16 July 2004. Retrieved on 2012-07-15. 
↑ Niizumi, Hirohiko. "Capcom developing for all next-generation platforms", GameSpot, 22 September 2004. Retrieved on 2012-10-31. 
↑ Dunham, Jeremy. "Biohazard Outbreak File #2 Update", IGN, 29 October 2004. Retrieved on 2012-07-15. 
↑ Adams, David. "Make a Date with Terror", IGN, 13 December 2004. Retrieved on 2012-07-15. 
↑ Dunham, Jeremy. "Outbreak in April", IGN, 21 March 2005. Retrieved on 2012-07-15. 
Community content is available under
CC-BY-SA
unless otherwise noted.