The Resident Evil Re:Verse closed beta was the first ever demo of Resident Evil Re:Verse, it was originally announced as the Resident Evil 25th Anniversary Title Closed Beta Test,[2] before the game's reveal on the Resident Evil Showcase. The closed beta took place between January 28–30.
Registration
The registration for the beta was the same for both platforms:
The user must first have registered to the Resident Evil Ambassador program and have a CAPCOM ID linked to it, then signed the online form to enter for a lottery.
The Resident Evil Ambassador rank of the user boosted the chances of winning, with silver ranked users having x2 chance, gold at x5 and platinum at x10. Bronze ranked users did not receive any bonus.
The registration period was between January 14–25, with the announcement occurring on different dates: January 20, 22, 25 and 27.[1]
On January 27, the @REBHFUN Twitter account announced that they would be giving away 30 codes for the closed beta to PlayStation users who replied to their tweet.[3]
Content
Only Deathmatch was playable in the closed beta, where players were pit against each other without any teams. There was a tutorial option which could be replayed infinitely, and when the beta was first booted up, it would ask the player if they would like to do the tutorial first. There was no invite system nor a way to host friend matches.
In the menu, players were able to see information about the Survivors and Bioweapons, which showed their stats, weapon loadout, skills and how many Virus Capsules were needed to spawn (in the case of a Bioweapon).
"R.P.D." was the only playable map, however the Tutorial takes place in "Uptown".
There was no way to change the voice language, even though the options menu included a way to lower the character voice line volume. The options menu also included a way to turn off the comic filter.
Capcom made an online survey about the closed beta between January 28-February 3.[4] This survey was e-mailed to Resident Evil Ambassadors.
Patches
The following are the patch notes based on the PS4's "Update History" menu:
Version 1.01

Bug fixes
Add Arabic language

Version 1.02
Glitches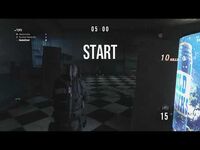 In some instances, players would start matches with a kill streak of 10. This was only a graphical glitch as the bonus points would not be awarded once the player earned a kill.
Further notes
An online connection was required to play this beta.[1]
If an user was selected for the closed beta, they could play it on the PlayStation 5 and/or the Xbox Series X via the two console's native backwards compatibility.
In the PlayStation App, this beta is titled "VILLAGE ONLINE".
External links
Gallery
Screenshots
Videos
Other
Sources
Community content is available under
CC-BY-SA
unless otherwise noted.