Contrary to Sega's The House of the Dead, and Capcom's Umbrella Chronicles, Resident Evil Survivor is not an on-rails shooter. All movement is based around the wish of the gamer as they walk around the three-dimensional setting.[1]
The game features branching paths that allow the player to determine how the story will unfold and who they will meet along the way.
Standard controls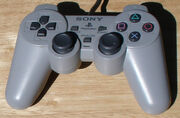 Control
Action
D-Pad
Character movement
Fire
N/A
Fire
Hold while moving to run
START
Inventory
Skip Cutscene
SELECT
Options Menu
R1
Aim
L1
Auto-focus
Saving
Resident Evil Survivor is unusual in that it only lets the player save if they die and decide not to continue, or if they beat the game. Saving however only saves items, weapons, ammo, and files, not actual progress.
Weapons
The handguns and the rocket launcher have infinite ammo, but the Shotgun, Grenade Gun and Magnum have limited ammo that needs to be encountered. The shotgun ammo is the easiest to found and normally the Tyrants drop it when killed. Magnum ammo is rare but powerful. The grenade gun has three different types of ammo: explosive, flammable and acid. To more information, see Grenade Rounds. These weapons need to be encountered, too. The rocket launcher is only unlocked after finishing the game with an S ranking (to get this rank is necessary to play on Normal difficulty, under one hour and a half, without using first aid sprays, making various critical hits and without dying[2]).
| Weapon | Ammo | Capacity |
| --- | --- | --- |
| | | 7 |
| | | 1 |
| | | 6 |
Handguns
In the game, the player starts with Handgun A.[3]
Handgun B is the weakest weapon in the game and has a slow recharge time, but it also has great capacity and firing speed.[4]
Handgun C is stronger than A and B, is faster than A and has a faster recharge time.[5]
Handgun D is the strongest handgun but also the slowest and has low capacity.[6]
Enemies strategy
Sources
Community content is available under
CC-BY-SA
unless otherwise noted.