Contents
Franchise
Lore
Game Content
Other Topics

- Content navigation
Did You Know?
...that Barry Burton is married to Kathy Burton and has two daughters, named Moira Burton and Polly Burton?
...that unlike popular belief, the 2003 "Hallucination" version of Resident Evil 4 was scrapped because its ghost encounters exceeded the GameCube's hardware performance?
Contributing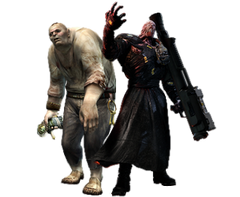 Community content is available under
CC-BY-SA
unless otherwise noted.