Rookie files is a file that can be found in Resident Evil 2.
Location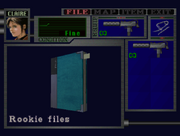 The file is present in the File menu upon starting the game on Easy or Rookie mode. It does not appear on harder difficulties.

Transcript
HINT FILES FOR THE ROOKIE MODE


---
A statue of a woman bearing a water vessel.

There's an inscription and a hole on the pedestal...

The statue holding a red jewel...

The two statues against each wall appear to have been moved before. Police staff have been told not to move either unless necessary.


---
The water tank on the roof.

The tank ruptured on one occasion when the regulator valve was tightened too much. The valve handle was removed after the accident.
Rookie Files


---
●The statue of a woman carrying a water jug
 There's a pedestal with an inscripton and a round hole that something might fit into...

●The statue holding a red jewel in the air
 The two statues at his side appear to have changed positions before. Station employees have been warned not to move them carelessly.
ルーキーファイル


---
●水瓶を持った女性像
 台座には碑文と何かをはめるような円い穴が開いているが…

●赤い宝石を掲げた石像
 横にある2体の石像はー度配置を変えたらしい。署員には不用意に動かすなと通達されているようだ。
Analysis
This file serves as a tip sheet for new players, specifically those playing on easier difficulties. It offers help toward solving the Unicorn Medal and Red Jewel puzzles.
English versions of the game feature an additional clue about how to use the Valve Handle.
Gallery
Further notes
Although the file itself uses the term "Rookie Mode", its inclusion in the game predates Rookie Mode, originally being obtained on Easy Mode. As such, the file can be found in every version of the game that supports Easy Mode.

The original Japanese script implies that the file is for "Rookie" players instead of those playing on a "Rookie Mode".
Sources
Community content is available under
CC-BY-SA
unless otherwise noted.