"This is a strong rope that could be used for mountain climbing."

The Rope is an event item in Resident Evil Survivor.
The rope is to be used by Ark Thompson to climb down from the Watchtower of the Paradise Prison, in order to reach the Alley of the Sheena Urban district.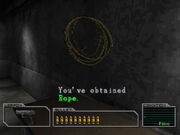 The item that can be found in Jail corridor within the Paradise prison on Sheena Island.
Bibliography
Edit