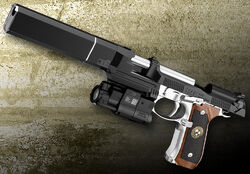 The Samurai Edge (Albert. W. model 01) is an airsoft gun produced by Tokyo Marui. It was released in April 2017 as a tie in product to Resident Evil 7: Biohazard. It based on the weapon of the same name in the series lore and the "Albert-01" or "Samurai Edge - AW Model-01" as its named during gameplay. Tokyo Marui also published a web article called "Samurai Edge AWM01 Archives" about the weapon.
Product
The product includes the airsoft gun, pellet magazine, the octagon silencer, rail stabilizer, light adapter, protective cap, a handling instructions manual, a supplementary story manual and cleaning rod.
Gallery
Sources
sources
Tokyo Marui website product page
Community content is available under
CC-BY-SA
unless otherwise noted.