"This large size military shotgun can be handled with one area if used with a stock option."

The Shotgun is a weapon which is featured in Resident Evil Survivor.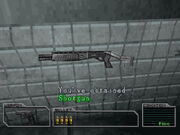 The Shotgun can be found in the Bathroom of the Paradise prison.
A solid weapon with significant firepower, decent fire rate, good capacity, and rather abundant ammunition per run through.
The go to weapon against stronger enemies in the game such as T-103s, Hunters, and Lickers.