Prime universe
(Capcom's primary storyline)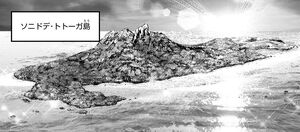 Sonido de Tortuga Island (Spanish: lit. Sound of Turtle) was an island off the South American coast which was the site of a biohazard.[1] It neighboured Zanahoria Island.
History
In the 1930s the United States built a military base on the island. By the 1990s it had been long abandoned and in a ruined state. It was then purchased by Umbrella to be converted into a laboratory. Oswell E. Spencer personally visited the island during the purchase.[2][excerpt 1]
Biohazard
A Japanese television program watched globally, "Idol Survival" (アイドル・サバイバル?), was filmed on this island, using Gravure idols as 'bathing beauties'. At around the same time, TerraSave launched an investigation led by Claire Redfield to find out what was 'wrong' with the island.
It was revealed that this was the location of Alex Wesker's experiments on immortality ordered by Oswell E. Spencer. In her next facility in Sejm Island, a screen could be seen with a map focusing on the South Atlantic.[3]
Gallery
Sources
excerpts
↑ Excerpt from Episode 8:
"初めに来たのはアメリカだった。1930年代この島にはアメリカの軍事基地が作られた。不安な世界情勢のためここに基地が必要だったのだ。基地は今や完全な廃墟となっている…1990年代後半廃墟となった軍事施設が実業家に賈い取られる。そこに研究施設が作られたくさんの研究員が渡った。陰ながらアンブレラをコントロールしてきたこの男はすでに死亡している…だがその野望の爪痕はいまだ世界を苦しめている…この島がスペンサーの研究施設だったなんて……"
references
↑ バイオハザードシリーズ|漫画情報

(Japanese)

. Capcom. Retrieved on 2015-01-15.
↑ BIOHAZARD heavenly island, Episode 8: Tatakai.
Community content is available under
CC-BY-SA
unless otherwise noted.