Fire Emblem Warriors: Three Hopes - The Loop
Play Sound
Prime universe
(Capcom's primary storyline)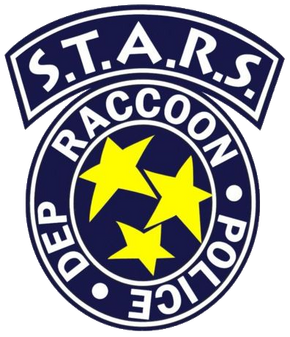 The Special Tactics and Rescue Service (S.T.A.R.S.) (特殊戦術及び救助部隊, tokushu-senjutsu oyobi kyūjo butai?) was an elite special forces division under the jurisdiction of the Raccoon Police Department, though privately funded and able to operate independently.[1] It employed ex-military personnel and academic experts for appropriate positions within the police department.[2] The overall idea was to form a team combining tactically-sound soldiers with scientists, allowing the team to operate in both anti-terrorism and increasingly-potent urban crime scenarios,[3][excerpt 1] as well as dealing with other emergencies.[1][excerpt 2]
History
Founding (1996)
As Raccoon City expanded its size in the 1990s, there emerged an increasing need for better policing to maintain law and order. Among the violent crimes plaguing the city was that of domestic terrorism.[3][4] The Raccoon Police Department itself lacked the appropriate funding or personnel to counter this phenomenon, and the local government looked elsewhere. In 1996, Mayor Michael Warren announced the creation of an elite law enforcement team as part of his "Bright Raccoon 21" urban redevelopment campaign,[1] which was based on funding from the private sector rather than local taxes. As the largest employer in the county, Umbrella USA provided considerable funds for this venture.[2][3][5] Due to their influence, Umbrella was successful in choosing former Army officer Dr. Albert Wesker as Captain, ahead of the more popular Enrico Marini. This was, in secret, a means of keeping S.T.A.R.S. under the control of someone they could trust. Other private funding came from such avenues as the Kendo Gun Shop, which developed "Samurai Edge" side-arm that became standard-issue.
Unlike the police department, S.T.A.R.S. recruited from outside the established police force, instead relying on military veterans and specialists in a variety of fields from computer hacking to chemical disposal. Nonetheless, entrants from RPD were welcome, provided they pass a written exam.[6][7] The latest recruit to S.T.A.R.S. was Rebecca Chambers, a genius who graduated with a BSc at the age of 18; while not trained for combat, her role as a medic was recognised.
Mansion Incident (1998)
In May 1998, the Arklay Laboratory fell into chaos with the release of an experimental t-Virus strain. With the staff no longer able to keep up with their duties, experimental bio-weapons made their escape, killing several people and mutating more. Over the next two months, the RPD failed to solve the killings: no motive could be found, no suspects identified or suspicious people reported receiving treatment for suspicious injuries. Unable to make headway and under increasing media pressure, Police Chief Brian Irons formally assigned the case to S.T.A.R.S.
Receiving orders from Umbrella, Wesker himself began planning for the investigation mission, dubbed "X-Day". These orders were to make his way into the laboratory, destroy the complex to contain the outbreak, and escape with biological samples. To silence any witnesses, it was imperative S.T.A.R.S. be destroyed during the mission.
On 23 July, Bravo Team was sent out into a section of the Arklay Mountains to the northwest of the city, where it was theorised the killers may have been based. Suffering from an engine failure, they landed near the Spencer Mansion located above the laboratory.[8] The majority of Bravo Team made their way into the mansion and began investigating, with Cpt. Marini finding a subway tunnel that took him to the nearby NEST facility and soon uncovering evidence Umbrella was planning their demise from within S.T.A.R.S. Chambers meanwhile was separated from the group and uncovered illegal human research performed by Umbrella in the 1970s and '80s. S.T.A.R.S. officer Edward Dewey and RPD pilot Kevin Dooley meanwhile were killed soon after the helicopter landed.
With the loss of Dooley and the helicopter, the five remaining S.T.A.R.S. officers were left trapped within the Spencer Mansion and the buildings surrounding it. Cpt. Marini was injured by escaped Hunters while investigating a series of caverns on his own. Forest Speyer was attacked and infected by mutant crows while on the east balcony. Chambers and Richard Aiken meanwhile found one another and investigated the building to look for Marini, but were not successful.
Without any word from Bravo Team for many hours, Alpha Team was prepared for a mission to investigate the loss of contact.[9] Ahead of the mission, Cpt. Wesker confronted subordinate Barry Burton. Having formerly worked at the Arklay Laboratory, Wesker threatened Burton with the murder of his family, and forced him to agree to assist in the destruction of incriminating evidence in exchange for their survival. Burton was unaware, however, that there was no murder plan on his family and they were not held hostage by Umbrella personnel as he believed.
On the night of 24 July, Alpha Team departed to the same area of the mountains Bravo Team was assigned to. When the derelict Bravo Team helicopter was spotted from above, pilot Brad Vickers landed, and the other Alpha Team members departed to investigate the area, leaving behind their specialist equipment and weapons. The body of Dooley was quickly discovered, brutally savaged. Soon after, a pack of wild Cerberuses attacked the officers, killing Joseph Frost. Vickers panicked and took off on the helicopter, preventing the others from escaping or arming themselves with more than their sidearms. At Wesker's command, they ran in the direction of the Spencer Mansion for safety.
While inside, Alpha Team split-up as per their training. As they arrived, Bravo Team member Kenneth J. Sullivan was pursued by a Zombified employee and his threat torn into, killing him. Elsewhere, Aiken was attacked by a large, poisonous snake called Yawn, and Chambers fled to a store room, possibly in search of an antivenom, where she would be found by Alpha Team member Chris Redfield. While Aiken's fate is unknown, Speyer is known to have awoken as a Zombie and attacked one of his colleagues. During these events, Redfield, Burton and Jill Valentine continued exploring the complex as part of their investigation, with Burton destroying any evidence he could fine. During the exploration, Marini himself was found, and killed by Wesker before he could reveal what he knew of a conspirator to the others. To keep himself safe, Wesker may have tried to implicate Burton instead.
In the early hours of the 25th, the surviving S.T.A.R.S. members made their way into the underground laboratory, by which point they had accumulated evidence that the deaths of locals and S.T.A.R.S. members were the result of an outbreak, that Umbrella not only knew the risks but failed to contain it and covered it up, that they planned to destroy the lab to destroy implicating evidence in a plan that would kill S.T.A.R.S. in the process, and finally that Wesker himself was an Umbrella employee formerly assigned to the lab. Confronted at a lab, he confirmed his wrongdoing, and revealed he was in fact planning to betray Umbrella as well by handing over evacuated samples to a third party.
As he was confronted, Wesker was successful in awakening and releasing the T-002, a recently completed supersoldier created by a strain of t-Virus. The Tyrant quickly turned on him, impaling him with his claw, before turning to face the others. The other S.T.A.R.S. members made their way out of the lab, with Chambers finding and setting off a bomb in the facility, which Umbrella had intended Wesker to use. Wesker himself would wake up in the lab, rejuvenated by a recent viral infection that had mutated him. Unable to recover any important samples, he was forced to escape from the facility empty handed.[10] Meanwhile, his subordinates killed the T-002 on a helipad as Vickers picked them up.
Disbanding
Vickers returned to the Raccoon Police Station with survivors Burton, Chambers, Redfield and Valentine. Following a hospital visit, they began an investigation of Umbrella from their S.T.A.R.S. office. In the following month, however, Umbrella was able to bribe Chief Irons into disbanding the group, reassigning the Umbrella investigation to the RPD itself so it could be suppressed, and forming the Raccoon S.W.A.T. to take over S.T.A.R.S.'s missions.[2] The official reason for this was that S.T.A.R.S. had lost simply too many officers to be able to function.[1] Suspecting Irons' corruption, Redfield was able to report him to the Federal Bureau of Investigation, who began their own investigation into RPD corruption. By September, only Valentine and Vickers were left in the city to continue an off-the-record investigation of Umbrella, looking for the location of NEST and the G-Virus they had become aware of. Redfield himself had travelled to Europe to investigate Umbrella there, taking the guise of a vacation. Burton went on leave to move his family to Canada.[11] Chambers on the other hand, continued with her university education to achieve a doctorate in the field of virology, intent on helping her more combat-experienced friends in a support capacity as the Bioterrorism Security Assessment Alliance was formed over time.[12]
Organisation
Formation
| | |
| --- | --- |
| Backup Man | Pointman |
| Leader | Omni-Man |
| Rear Security | Rear Security |
S.T.A.R.S. units were built around a 5-man cell structure on foot,[1] with the standard formation consisting of three rows of two columns in case the pilot assemble with the rest of the group (the pilot could join the unit as a second Rear Security member if needed). At the front stood the Pointman on the right, responsible for field-scouting and reconnaissance, with the Backup Man - or BUM - on the left, providing any assistance if needed. In the middle-row stood the Leader, with the police rank of Captain, who would provide orders for the team; on the Leader's right stood the Omni-Man, responsible for vehicle and weapon maintenance. In the rear stood Rear Security, who's role was to maintain contact with the helicopter or S.T.A.R.S. HQ.
Teams
At its height, S.T.A.R.S. was comprised of two teams, designated "Alpha" and "Bravo". Each team was organised based on the tactical squad formation, with five operators on the field and a helicopter pilot. The teams would remain on-duty for 24-hour shifts before switching to the other team, allowing S.T.A.R.S. to remain active in the event of an emergency.[13] While neither team was superior to the other, Alpha Team Captain Albert Wesker held superiority over Bravo Team Captain Enrico Marini.
Specialisations
Due to the specialist requirements of S.T.A.R.S., the organisation was expected to handle a wide variety of missions and investigations, ranging from disposal of chemical weapons to bomb disposal to obtaining digital evidence.
Recruitment, selection and training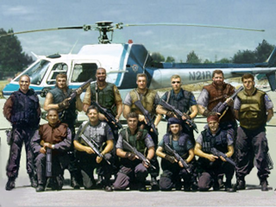 Prospective S.T.A.R.S. members were typically recruited through the use of talent scouts, due to the need for specialists.[1] These specialist skills ranged from sharpshooting, to computer hacking, to chemical disposal and field medicine. For those not scouted, applications could be filed requiring tests to assess a candidate's skills. It is known that Raccoon Police Department officer Kevin Ryman took and failed this test on two occasions.
Known members
Name
Position
Qualifications, role
Team
Status
Aiken, Richard
Backup man[14]
Communications expert[15]
Bravo
Deceased
Burton, Barry
Backup man[15]
Weapons supervisor
Alpha
Alive
Chambers, Rebecca
Rear-security[15]
Chemicals expert (Medic)[16]
Bravo
Alive
Dewey, Edward
Rear-security
Pilot[17]
Bravo
Deceased
Frost, Joseph
Omni man[15]
Vehicle and equipment maintenance technician;[15] qualified to handle dangerous goods.[excerpt 3]
Alpha
Deceased
Marini, Enrico
Leader
Bravo leader[15]
Bravo
Deceased
Speyer, Forest
Omni man[15]
Maintenance,[15]
Sharpshooter[18]
Bravo
Deceased
Sullivan, Kenneth J.
Pointman[15]
Chemist[15]
Bravo
Deceased
Redfield, Chris
Pointman[15]
Sharpshooter,
Co-pilot[15]
Alpha
Alive
Valentine, Jill
Rear-security[15]
B&E specialist[15]
Alpha
Alive
Vickers, Brad
Rear-security[15]

Hazardous substances handler/Chemical protection

Alpha
Deceased
Wesker, Albert
Leader
Former US Army officer and biotechnology specialist.[excerpt 4]
Alpha
Deceased
Uniform distinctions
In the two years of its existence, S.T.A.R.S. never established a uniform, though plans for one were underway in mid-1998.
Each member of the unit wore an undershirt (Except for Forest, who wore only his blue Flak vest) with the S.T.A.R.S. emblem over the left sleeve (save for Richard, who oddly has the standard RPD emblem on his sleeve. His undershirt also reads RPD on the front) and an M69 Flak vest suited for each officer's personal skills and specialty—exceptions are Rebecca, who had normal body armour, and Jill, who wore shoulder armour. For example, Chris's vest was equipped with a sheath for his combat knife, while Rebecca's vest prominently displayed a red cross on the back, the international symbol of a medical assistance officer. Some operators had leg holsters—Barry had a leather Magnum holster for his Silver Serpent. Most members had SWAT fingerless gloves with watches over the gloves (Edward and Brad were only seen wearing watches, this may be due to the fact that they're pilots). All members had a pair of Jungle boots to complete their basic uniform. Each member is allowed to choose their colour for his/her uniform. Some members wore LC1 suspenders along with LC2 belts while some only had LC2 belts with nothing on them. Members had their own pouches attached to their belts or web gear depending on the equipment they were bringing. A much more official and practical prototype S.T.A.R.S. uniform was also designed consisting of olive drab fatigues and a black tactical vest with the S.T.A.R.S. logo emblazoned across the back, but this outfit was never formally adopted due to the (Raccoon City) teams' termination. Instead, Chris wore the only known prototype on his mission to rescue his sister Claire, during the Rockfort Island incident.
Equipment
Due to the specialist and privately funded nature of S.T.A.R.S., equipment used by the organisation was diverse. This included special equipment used at S.T.A.R.S. HQ, located on the second floor of the Raccoon Police Station.[1]
Weapons
The standard issue sidearm for S.T.A.R.S. was a modified Beretta 92F.[1] Officially dubbed the "Beretta 92F S.T.A.R.S. Special", or "Beretta 92FS" for short, it went on to be known by the nickname "Samurai Edge".[1] Constructed by Joe Kendo, one of the Kendo Gun Shop partners, it was another example of Raccoon City's private sector funding S.T.A.R.S. Further customisation tailored to the individual officer was also provided to Burton, Redfield, Valentine and Wesker. In Burton's case, it was modified to fire .40 S&W rounds. Combat knives were custom made for the team, who were expected to learn close-quarters combat with knives. These knives sported the S.T.A.R.S. emblem on the blade.
Aside from these standard-issue weapons, S.T.A.R.S. members were also provided with several Heckler & Koch MP5s, with Marini known to carry a Steyr AUG. Frost is known to have carried an Ingram M-11 on missions, while Speyer may have brought the grenade launcher he was found with with him.
Other equipment
Other equipment provided for S.T.A.R.S. includes a shoulder-cam for recording mission progress on DV Tapes. Both Sullivan and Frost had such cameras which, in both cases, recorded their violent deaths. Chambers, the medic, was provided with a mixing set full of chemicals. Some team members were provided with Walkie-Talkies, though not all from Alpha Team appears to have been provided. Their equipment may have been left on Vickers' helicopter. Wesker and Aiken are known to have used tactical headsets, which would have connected to these walkie talkies to free one's hands if needed.
Transport
After its formation, S.T.A.R.S. was provided with an Aérospatiale Eurocopter AS350B. By 1998, however, they had exchanged it for two UH-1/204B model helicopters. One of these was trashed in the Arklay Mountains, and it is uncertain if it was recovered.
Further notes
Only eleven of the unit's twelve members appeared in the original game. Edward Dewey, Bravo Team's pilot, was only mentioned in the game's instruction manual, but not actually featured in the game. For a long time it was assumed that the disembodied hand found by Joseph in the game's introductory cutscene belonged to Edward (and indeed, Edward was originally shown with a missing right hand in the N64 version of 0) but a few retroactive changes were made in order to include the character for a small role in the prequel Resident Evil 0 (in the Resident Evil remake, the dead pilot is now identified as Kevin Dooley, the RPD Co-Pilot for Bravo Team).
In Resident Evil 2 (starring Chris Redfield's sister Claire and Raccoon Police Department (R.P.D.) rookie officer Leon S. Kennedy), all of the S.T.A.R.S. operators from the original game (excluding Rebecca), can be seen in a photograph located in the S.T.A.R.S. office on the second floor of the RPD next to Wesker's desk, which can be searched for film D. They were pictured along with one previously unseen member. It is generally accepted that he is simply an early version of Kevin Dooley. As Dooley was confirmed as not being a S.T.A.R.S. member, but an RPD pilot used at least once for S.T.A.R.S., he may in fact be the extra man in the picture.
After the credits of Resident Evil 4, it mentions S.T.A.R.S. when naming the copyrights.
Tokyo Marui, a popular airsoft manufacturer in Japan, created a replica of the S.T.A.R.S. "Samurai Edge" pistol based on its original design model, the Beretta 92F/FS.
King Arms, another popular airsoft manufacturer sells Resident Evil/Biohazard themed M4/M16 metal receivers, one of these receivers bears the S.T.A.R.S. emblem on it.
GSX, a Japanese watch manufacturer was responsible for making individual S.T.A.R.S. watches. A special collection of these watches were sold to commemorate Resident Evil's 5th birthday, like Tokyo Marui's selection of Samurai Edges, these were only available in limited numbers and are considered a rarity among fans. UBCS watches were also available.
Many of the equipment (Tac vests, Chris' flak vest, shirts etc.) present in the games were replicated or customised for real life use, they all have the Capcom seal to show that they're official game merchandise.
The mobile phone game BIOHAZARD i SURVIVOR introduced five new S.T.A.R.S. members who were never seen or mentioned again after said game was discontinued. It was the only video game to introduce non-canon S.T.A.R.S. members. See the main article about the game for more info.
Gallery
Bibliography
Sources
excerpts
references