Tricell Researcher Miguel's Journal - No. 2 is a file that can be found in Resident Evil 5.
Location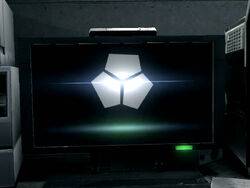 The file can be read by turning on the computer inside the room where Chris and Sheva encounter Excella Gionne at the Ship Hold during Chapter 6-1.
Transcript
May 8
Our current aim is to develop a virus that surpasses the potential of both the G-Virus and T-Veronica virus.

We need to eliminate any extreme mutations, mental atrophy, and instability in the virus.

We were told not to be concerned with retention and rejection rates, but even still, overcoming these three problems is going to be a challenge.

Of course, all that is really only a problem for regular researchers.

I'm already on the cusp of overcoming two of the problems. The third is proving to be a bit trickier, so I may have to resort to some alternative methods.

Sometimes I frighten myself with my own ingenuity! Tricell is fortunate to have someone of my intelligence on their payroll.
5月3日
俺たちが目指すのは、G-ウィルスやt-Veronicaを越えるウィルスの開発だ。
過度の変異、精神汚染、安定性の欠如、これらの要素を排除しなくてはならない。
定着率と拒絶反応については無視していいとは言われているが、この3つをクリアするのでも大変だ。

もっとも、それは普通の研究者にとっては、という注釈付きではあるけどね。
2つについてはすでに解決のめどが立っている。残りの1つについても、他の方法で何とかなりそうだ。
我ながら、自分の閃きが恐ろしくなることがあるよ。
これも才能ってやつかな。
Galley
Community content is available under
CC-BY-SA
unless otherwise noted.