The T-103 was the first mass-produced Tyrant-type B.O.W., finally reaching Umbrella's goal of fully-functioning bio-weapons capable of operating within mission parameters.
Model history
The creation of the T-103 lies in the T-002, which was destroyed by S.T.A.R.S. Alpha team in July 1998. The data acquired by Umbrella on Alpha team's reports proved that Tyrants of similar design could be used as adequate bio-weapons. With this data the T-103 was born.[1]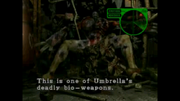 During the Raccoon City Destruction Incident, a T-103 was dispatched to retrieve one of the last remaining G-virus samples; five others being transported by the same helicopter were used to stop a U.S. Special Forces incursion in the north of the city.
The Tyrant Plant on Sheena Island mass-produced the T-103 model, possibly being the direct source for previous models, until the islands destruction.
Model lineage
The T-103 model proved to Umbrella that the Tyrant class of B.O.Ws was commercially viable, in that they could be mass-produced, they were compliant with programming, and they were lethally effective at their tasks. As a result, not only were multiple batches of T-103 Tyrants produced, data from the T-103 was eventually used to enhance future forms of Tyrant. At least four models of Tyrant exist that can be directly connected to the T-103:
Sources
↑ Resident Evil Archives. BradyGames. p. 157.