Prime universe
(Capcom's primary storyline)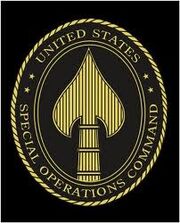 The United States Special Operations Command (USSOCOM) is the Unified Combatant Command charged with overseeing the various Special Operations Commands (SOC or SOCOM) of the Army, Air Force, Navy and Marine Corps of the United States Armed Forces. The command is part of the Department of Defense. USSOCOM is headquartered at MacDill Air Force Base in Tampa, Florida. Jack Krauser is known to have represented one of the special operations teams within USSOCOM, though it is left unstated as to which.
Purpose
USSOCOM conducts several covert and clandestine missions, such as unconventional warfare, foreign internal defense, special reconnaissance, psychological operations, Civil Affairs, direct action, counter-terrorism and War on Drugs operations. USSOCOM's global performance in combat and noncombat areas has proven the value of a mature, culturally attuned, properly equipped, and adaptive Special Operations Force (SOF). Each branch has a Special Operations Command that is unique and capable of running its own operations, but when the different Special Operations Forces need to work together for an operation, USSOCOM becomes the joint component command of the operation, instead of a SOC of a specific branch.
Subunits
USSOCOM is divided into several individual commands:
Army Special Operations Command, based at Fort Bragg, is responsible for entirely Army matters. Along with its five regiment-strong Army Special Forces is the independent 75th Ranger Regiment.
Joint Special Operations Command (JSOC), based at Fort Bragg, is responsible for multi-branch missions. Delta Force is among its units.
Naval Special Warfare Command, based in Coronado, handles all SEAL teams (with the exception of Team Six, which is part of JSOC).
Marine Corps Special Operations Command is entirely distinct from NavSpecWarCom, and is based at Camp Lejuene.
Airforce Special Operations Command, based in Hurlburt Field.
Sources
See also
USSTRATCOM - a counterpart Unified Combatant Command
Community content is available under
CC-BY-SA
unless otherwise noted.