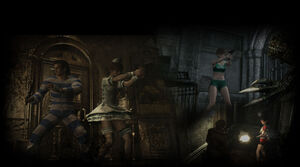 The unlockable costumes in Resident Evil 0 (Biohazard Zero) can be worn by Rebecca Chambers and Billy Coen upon meeting certain requirements in the game. These costumes can be worn in the main campaign and in the additional mode, Leech Hunter.
2002 - Original Version
Edit
Upon completing the game on either Normal or Hard mode, Rebecca will start the next game with the Closet Key. The key unlocks a closet in cabin 101 on the second floor of the Ecliptic Express, where two alternate costumes for Rebecca Chambers and one for Billy Coen can be chosen.
2016 - HD Remaster
Edit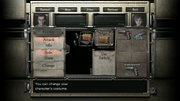 In the HD Remaster, the costumes are available during the main campaign and Leech Hunter modes from the Suitcase. The Closet Key and Closet are not used. Rebecca's "Cowgirl" and "Leather" costumes and Billy's "Jacket" costume are automatically available in the Suitcase at the start of the game. In addition, Rebecca's "Team Wesker" costume can be unlocked by completing Wesker Mode.
A number of DLC costumes are available for the HD Remaster. There are a total of four costume packs for Billy and Rebecca. Costume Pack 1 contains Rebecca's "Cheerleader" costume and Billy's "Wolf Force" costume; Costume Pack 2 contains Rebecca's "Nurse" costume and Billy's "Cody" costume; Costume Pack 3 contains Rebecca's "S.T.A.R.S. 1997" and "Sportswear" costumes; and Costume Pack 4 contains Rebecca's "S.T.A.R.S. 1996" and "S.T.A.R.S. Prototype" costumes.
Rebecca gains her own set of t-shirt costumes as well. An exclusive DLC pack containing the three winning designs of the In-Game T-Shirt Contest and an additional Umbrella Executive Training Center t-shirt was rewarded to those who participated in the contest. Another DLC pack containing the "Shadow of Fear" t-shirt by Capcom artist Shinkiro was given as an extra to those who digitally pre-ordered the game.
There are also a number of Japanese-only t-shirts. So far these are mostly promotional designs for gaming magazines (such as Weekly Famitsu and Dengeki PlayStation), anime and manga (Ajin: Demi-Human), and other companies (GEO, WonderGOO, Joshin Denki). There is also a BIOHAZARD heavenly island t-shirt designed by Naoki Serizawa.
Japan-exclusive Shirts
Edit
Suitcase images
Edit
Promotional Images
Edit
Miscellaneous
Edit
Further notes
Edit
Rebecca's "Cowgirl" outfit is taken from Resident Evil (2002), where it originally appeared.
In the HD Remaster, Rebecca's "Cowgirl" costume was renamed "Western".
A number of Rebecca's HD Remaster costumes are all based on her previous appearances in the series: "S.T.A.R.S. Prototype" is her design from the unreleased Nintendo 64 version of Resident Evil 0; "S.T.A.R.S. 1996" is her original S.T.A.R.S. uniform design from Resident Evil (1996); "S.T.A.R.S. 1997" is Rebecca's alternate costume seen during Arrange Mode in Resident Evil: Director's Cut and conceptualized for Resident Evil (2002); "Sports wear" is based on her R.P.D. sportswear seen on the secret Film D in Resident Evil 2; "Nurse" is her alternate costume worn in Resident Evil: The Mercenaries 3D; and "Cheerleader" is her alternate costume worn in Resident Evil: Deadly Silence.
Billy's costumes in the HD Remaster are based on characters from other Capcom titles. The "Cody" costume is based on the prisoner outfit worn by Cody Travers from the Final Fight and Street Fighter series, while the "Wolf Force" costume is based on the outfits worn by the Wolf Force mercenary team in the 1990 arcade title, Mercs.[1][Excerpt 1]
Excerpts
↑ Excerpt from the News section of the Official HD Remaster website:
This costume, based on the classic video game Mercs, suits Billy's wild personality perfectly. It looks especially cool when using heavy weapons.
References
↑ Official HD Remaster website. Archived from the original on December 8th, 2015.

(English)