(27 intermediate revisions by one other user not shown)
Line 1:
Line 1:
 
+
−

[[File:007.jpg|thumb|Front of Jill 's Apartment.]]An apartment building in [[Raccoon City]] where [[Jill Valentine]] was staying after the [[Mansion Incident]]. This is where you initially start off in ''[[Resident Evil 3]]''. It is destroyed moments after Jill escapes and access to it is cut off.

 
 
+

{{DISPLAYTITLE:Street along apartment building}}

 
+
 
+

{{Infobox room

 
+

|name = Street along apartment building

 
+

|jp name = {{Nihongo|アパート前通り|apāto zen tōri}}

 
+

|image = [[File:Resident Evil 3 background - Uptown - street along apartment building e - R10D0B.png]]

 
+

|enemies = [[Zombie]] (x7)

 
+

|map = [[Uptown Raccoon City|Uptown]]

 
+

|links = [[Uptown/Warehouse|Warehouse]] (after running away)

 
⚫
 
+

|OST = [[The Beginning Of Nightmare]]

 
+

}}

 
+

The '''street along apartment building''' is a room in ''[[Resident Evil 3: Nemesis]]''.<ref>''OFFICIAL GUIDEBOOK'', p.193</ref> It's an area in the Uptown section of [[Raccoon City]].

 
+
 
+

==Description==

 
+

A dead-end street leading to Jill's apartment building.<ref group="note">While it is not outright stated that this is Jill's apartment building, several context clues lead to the likely conclusion that it is.</ref> Barricades and debris line the alleyway. A boutique and a market sit at the intersection.

 
+
 
+

[[File:Map.png|thumb|left|238px|The Apartment Area [red box] on the map]]

 
+
 
+

{{Clear}}

 
+

==Guide==

 
+

Upon starting the game, a [[Resident Evil 3: Nemesis opening (Her Determination)|cutscene]] and an [[The Opening (FMV cutscene)|opening FMV]] play.

 
+
 
+

When the room loads, another [[Jill's starting point (The Beginning of Nightmare)|cutscene]] triggers here. Afterward, the player gains control of Jill. There are 7 zombies in the area that can be killed (two at the entrance of the apartment building, four at the east end of the alley, and one at the west end). At the west end of the alley is a dumpster that the player is able to climb over. Upon climbing down, another [[Is There A Way Out? (cutscene)|cutscene]] triggers.

 
+
 
+

The game resumes at the [[Uptown/Warehouse|warehouse]]. Although this part can't be revisited later, it is still viewable on the uptown map, showing the alley that Jill rammed is an L-shaped way leading directly into the front door of the warehouse.

 
+
 
+

==Examines==

 
+

{|class="wikitable" style="text-align: center"

 
+

|-

 
+

! scope="col" |Location

 
+

! scope="col" |Localization

 
+

! scope="col" |Original script

 
+

|-

 
+

|Prologue

 
+

|

 
+

Farewell to my life. Farewell to my home. This is my last chance for survival... This is my, last escape...

 
+

|

 
+

|}

 
+
 
+

==Gallery==

 
+

===Cutscene===

 
+

<gallery>

 
+

Resident Evil 3 Nemesis screenshot - Uptown - Street along apartment building - Jill Valentine scene 01.png|Aerial shot of the street.

 
+

Resident Evil 3 Nemesis screenshot - Uptown - Street along apartment building - Jill Valentine scene 02.png|The apartment building.

 
+

Resident Evil 3 Nemesis screenshot - Uptown - Street along apartment building - Jill Valentine scene 03.png|An explosion at the entrance.

 
+

Resident Evil 3 Nemesis screenshot - Uptown - Street along apartment building - Jill Valentine scene 04.png|Jill appears.

 
+

Resident Evil 3 Nemesis screenshot - Uptown - Street along apartment building - Jill Valentine scene 05.png|Jill clears the dumpster.

 
+

Resident Evil 3 Nemesis screenshot - Uptown - Street along apartment building - Jill Valentine scene 06.png|The zombies approach.

 
+

Resident Evil 3 Nemesis screenshot - Uptown - Street along apartment building - Jill Valentine scene 07.png

 
+

Resident Evil 3 Nemesis screenshot - Uptown - Street along apartment building - Jill Valentine scene 08.png|Jill is surrounded.

 
+

Resident Evil 3 Nemesis screenshot - Uptown - Street along apartment building - Jill Valentine scene 09.png|She breaks into the adjacent alleyway...

 
+

Resident Evil 3 Nemesis screenshot - Uptown - Street along apartment building - Jill Valentine scene 10.png|... and escapes.

 
+

</gallery>

 
+
 
+

===Gameplay===

 
+

<gallery>

 
+

Resident Evil 3 Nemesis screenshot - Uptown - Street along apartment building - Jill Valentine gameplay 01.png|Jill encounters six zombies at the east end.

 
+

Resident Evil 3 Nemesis screenshot - Uptown - Street along apartment building - Jill Valentine gameplay 02.png|Jill on the dumpster, cornered by the seventh zombie.

 
+

</gallery>

 
+
 
+

===Backgrounds===

 
+

<gallery>

 
+

Resident Evil 3 background - Uptown - street along apartment building a - R10D00.png|Gameplay

 
+

Resident Evil 3 background - Uptown - street along apartment building b - R10D01.png

 
+

Resident Evil 3 background - Uptown - street along apartment building c - R10D02.png

 
+

Resident Evil 3 background - Uptown - street along apartment building d - R10D03.png

 
+

Resident Evil 3 background - Uptown - street along apartment building e - R10D0B.png|Cutscene

 
+

Resident Evil 3 background - Uptown - street along apartment building f - R10D0C.png

 
+

Resident Evil 3 background - Uptown - street along apartment building g - R10D0A.png

 
+

Resident Evil 3 background - Uptown - street along apartment building h - R10D04.png

 
+

Resident Evil 3 background - Uptown - street along apartment building i - R10D05.png

 
+

Resident Evil 3 background - Uptown - street along apartment building j - R10D06.png

 
+

Resident Evil 3 background - Uptown - street along apartment building k - R10D07.png

 
+

Resident Evil 3 background - Uptown - street along apartment building l - R10D08.png

 
+

Resident Evil 3 background - Uptown - street along apartment building m - R10D09.png

 
+

</gallery>

 
+
 
+

==Bibliography==

 
+

*{{Cite book|title=[[BIOHAZARD 3 LAST ESCAPE OFFICIAL GUIDEBOOK|BIOHAZARD 3 LAST ESCAPE OFFICIAL GUIDEBOOK (COMPLETE CONQUEST OF NEMESIS)]]|publisher= Famitsu|author=|authors=|editor=|page=|pages=|language=Japanese |isbn=4-7572-0613-5|year=1999}}

 
+
 
+

==Sources==

 
+

;Notes

 
+
 
+

<references group="note"/>

 
+
 
+

;References

 
+
 
+

<references/>

 
+

{{Resident Evil 3: Nemesis locations}}

 
+

[[Category:Resident Evil 3: Nemesis locations]]

 

[[Category:Uptown district]]

 

[[Category:Uptown district]]

⚫
 
---
Latest revision as of 21:37, 11 March 2020
The street along apartment building is a room in Resident Evil 3: Nemesis.[1] It's an area in the Uptown section of Raccoon City.
Description
A dead-end street leading to Jill's apartment building.[note 1] Barricades and debris line the alleyway. A boutique and a market sit at the intersection.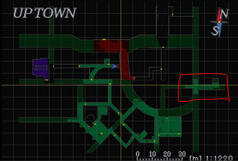 Guide
Upon starting the game, a cutscene and an opening FMV play.
When the room loads, another cutscene triggers here. Afterward, the player gains control of Jill. There are 7 zombies in the area that can be killed (two at the entrance of the apartment building, four at the east end of the alley, and one at the west end). At the west end of the alley is a dumpster that the player is able to climb over. Upon climbing down, another cutscene triggers.
The game resumes at the warehouse. Although this part can't be revisited later, it is still viewable on the uptown map, showing the alley that Jill rammed is an L-shaped way leading directly into the front door of the warehouse.
Examines
| Location | Localization | Original script |
| --- | --- | --- |
| Prologue | Farewell to my life. Farewell to my home. This is my last chance for survival... This is my, last escape... | |
Gallery
Cutscene
Gameplay
Backgrounds
Bibliography
Sources
Notes
↑ While it is not outright stated that this is Jill's apartment building, several context clues lead to the likely conclusion that it is.
References
↑ OFFICIAL GUIDEBOOK, p.193
Community content is available under
CC-BY-SA
unless otherwise noted.