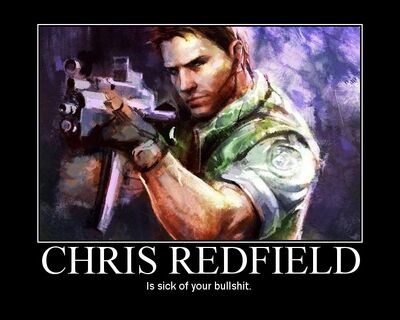 Hey, everybody! My name's Chris (for real), and I'm just getting into Resident Evil. I don't know much, but I'm learning, so bear with me. I'd really appreciate some help as to what pages to visit to get the main story. I hope to be a pretty active person on here soon enough!
Hi guys! I still haven't played Resident Evil or Silent Hill yet >_< but an Xbox or PS3 will be in sight soon, and then it is Resident Evil 6 time (don't flame me for starting with the latest one in the series) and I've been doing plenty of research. Not a nerd quite yet, but I'm getting there. I have to say, from what I know of Resident Evil 6, it is and probably will be my favorite RE game.
By the way, Piers Nivans is now my hero. Dammit, Capcom screwed up big time--he could easily have been the next Chris Redfield! I boon for the series! What the HELL happened? You were SO CLOSE. DAMMIT CAPCOM. Y U KILL OF PIERS?!?!?
As a notice, I think I might start really editing here soon. Spec Ops and Silent Hill Wiki just aren't doing it for me lately, I've been on such a Resident Evil tangent lately.
Who is this Chris person?
This Chris person is your new friend. Friends are a nice thing to have, aren't they?
Speaking of which, how cool is it that my name is Chris, and one of my best friends' name is Pier, without the 's'? That can only be fate.
Stuff You Should Know About Me
I'm a crazy reader. I had a college level
reading average when I was eight years old. I will be eternally depressed that the Harry Potter series is over. That one aside, I'll read pretty much any fiction, for me to really not want to read something, I'll either decide that pretty early on, or its nonfiction, documentary type stuff. If it's like that, it has no business being in a public library. If you want people to read something, take it out of your mind and put it on the paper!
I am a total game freak. Unfortunately, I don't have nearly as many of the games I want as I'd like to have.
I LOVE music. I come from a musically talented family, and I personally play the violin. I always loved the music on Nickelodeon, and game soundtracks are a hobby of mine.
Guess what I wanna be?
A) A chef
B) an astronaut
C) A graphic designer (video game genre)
If you picked A or B, you and I will be getting to know each other a lot better.
I love horror. I mean, this is a totally new me. The old me wouldn't touch horror. Now I love it. My personal favorites, which the top of this screen can tell you, are Final Destination and Silent Hill. I also loved Orphan.
I play really well with other genres, too. I personally am a big fan of Home Alone, to name one, and don't even get me started on Hellboy.
I have a mother I love very much, who loves me very much in return, Amanda. I have a father I don't see often, but that I love just as much, Dean. I also have a brother, Daniel, and a sister, Erica. Erica is 25, Daniel is 23, and I'm 15. I also had a favorite Aunt that passed away, Aunt Jean. She and her dog, Kodiac, and her cat, Denali. I love animals, which is why it broke my heart when I found out Buddy died. He was a Welsh Corgi, and the smartest dog you've ever seen. I have 3 cats, Tinkerbell (white, shaggy, ice blue eyes, 8 pounds, will kick your @$$, and loving), Tigger (grey with light and dark stripes, greenish yellow eyes, 20 pounds, lazy, and lovable), and Powder (white, son of Tigger and Tinkerbell, one color eye from each parent, 17 pounds, lazy, and lovable). Tigger and Tinker also had two other kittens, Cronk (calico, went psycho and had to have his but kicked by his momma), whom we got rid of, and Little Bit (named so because of her all-white coat with a "little bit" of grey on her head. Sadly, Mom got rid of her, too. I'd have kept all of them.
I am a huge fan of Doctor Who. The first series through the fourth were great, but Matt Smith just kind of messed up the role of the Doctor, don't you think? My favorite monsters are:
The Cybermen
The Weeping Angels
The Vashta Nerada
The Gas Mask Zombies (doesn't really count)
and the Daleks.
I'll add some other stuff when it comes to mind.
Where to Find Me
I'm on Spec Ops Wiki everyday, and as soon as I'm a Resident Evil nerd, I'll be on here everyday, too! Until then, I'm watching RE Let's Plays. It's slowgoing. but happening.
What else do I need to know?
I'll put up some stuff about what I like eventually.
THE WALL
Community content is available under
CC-BY-SA
unless otherwise noted.