Hello I'm Spleepoppetween (Splee-poe-pop-eh-tween) I'm a long time fan of resident evil and a lover of things of the psychological and horror genre. Resident evil has to be has to be one of my favourite game series along with Silent Hill.
Resident Evil Games I Own
RE 0
REmake
RE 2
RE 3
RE 4
RE Revelations
RE 5 (Gold Edition)
RE 6
RE Outbreak 1 & 2
RE Code Veronica X
RE Operation Raccoon City
RE Umbrella Chronicles
RE Darkside Chronicles
I also own "The Art of Resident Evil 5", the first S.D Perry novel, and the red limited edition resident evil 5 Xbox.
High Quality Capcom Costume Idea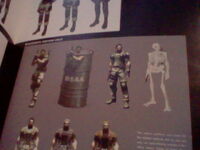 Wiki-administration

Local admins
Bots
Wikia Staff
Community content is available under
CC-BY-SA
unless otherwise noted.