"Used to create the vaccine. I need the base vaccine first."
— Item examination - English
"ワクチンを作るためのものだ ワクチンベースを作らなくてはならない "
— Item examination - Japanese
The Vaccine Cart (ワクチンカートリッジ, wakuchin-kātoridji?) is a key item in Resident Evil 2.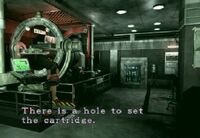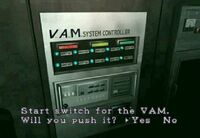 It is needed to make the G-Vaccine during scenario A. The player must activated the VAM machine before inserting this vaccine cart to get the Base Vaccine.
This vaccine cart can be found on the stretcher inside the B4F experimentation room.
Bibliography
Edit
Community content is available under
CC-BY-SA
unless otherwise noted.