Vaccine synthesis, known in the original script as Instructions for Synthesis of G-vaccine, "DEVIL" (GワクチンDEVIL生成方法, G wakuchin DEVIL seisei hōhō?), is a file that can be found in Resident Evil 2.
Location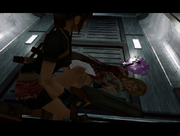 The file is obtained from Annette in the B5F Area B passage after exploring the P-4 laboratory for the first time. This file can only be obtained by Claire during the "A" scenario.

Trancript
INSTRUCTIONS FOR SYNTHESIS OF THE G-VIRUS ANTIGEN:
G-VACCINE. CODE NAMED "DEVIL."

Any beings infected by the G-virus will reproduce through the impregnation of an embryo within another living being.
Unless rejected by the host, the embryo will undertake a process of gradual cellular invasion, infecting the host's cells on a molecular level as it rewrites their DNA.

Once the metamorphosis is complete, the host will be capable of continuing this cycle of self-replication. The duration of time for the process to run its course will vary from subject to subject. In the early stages of cellular invasion, it is possible to halt progression of the metamorphosis through the administration of the G-vaccine antigen.
The following procedure details its synthesis.

The vaccine creation requires the base vaccine. This can be arranged by the activator VAM. First set the empty cartridge to the VAM and activate it. After several moments the process will be complete and the white-colored base vaccine will be set in the cartridge automatically.
Then confirm the green light is on, remove the cartridge, and proceed to the next step. Once the base vaccine has been prepared, set it in the vaccine synthesis machine located in the P-4 level experiment room. The machine is fully automated and only requires the user to push the sequence start switch. At this point, the program will run automatically and synthesis will be complete within approximately 10seconds.

As the synthesis of DEVIL is an extremely delicate process, the quality will vary with slight shocks or changes in temperature. Careful handling is required for the proper results.
対G用抗原体
Gワクチン「DEVIL」
生成方法

Gウィルスに感染し発病した生物は、体内で作り出す胚を他の生物に産み付けるという方法で自己複製を行うが、産み付けられた胚は宿主の激しい拒絶反応を受けない限り、十分な時間をかけて宿主の体と徐々に融合を続け、やがて宿主の体を自らの細胞組織と全て入れ替え、完全なG生物として生まれ変わる。

成熟するまでの期間は宿主の個体差によって様々だが、胚と宿主との細胞融合過程において早い時期であれば、特殊な抗原体を投与する事でG生物化を止める事が出来る。
この抗原体の生成方法は以下の通り。

ワクチン生成にはワクチンベースが必要となるのだが、これは活性処理機「VAM」で用意する。
まずワクチンベースを収納するためのカートリッジを「VAM」にセットし、機械を作動させる。
一定時間で処理は終わり、白色のワクチンベースが自動的にカートリッジにセットされるので、緑のランプを確認したら後はカートリッジを取り外し、次の段階へと進む。

ワクチンベースが用意出来たら、これをP-4レベル実験室のワクチン生成機にセットし、生成処理を行う。
生成機はコンピューター制御されているため、スイッチを押すだけで自動的に生成プログラムを起動、およそ10秒程で生成処理は終わる。
以上の工程を経て「DEVIL」が完成する。このワクチンは少しの衝撃や温度変化で変質してしまうため、非常にデリケートに扱う事が大切である。
Gallery
Official English localization
Original Japanese script
Further notes
Despite the delicate nature of the vaccine mentioned in the file, the game can be played normally with the vaccine in possession without worry (unlike an item such as the Fuel Supply Capsule).