The way to the floodgate (水門への道, Suimon e no michi?)[1] is an area of the courtyard.
Description
Edit
The water from the floodgate run into the garden below. There's a small passage with two ladders in between the floodgate which connect two path between the main garden of the mansion and elevator to the garden with a waterfall below.
In either the original or remake version of Resident Evil, the square crank can be used here to open the floodgate. The crank can be found: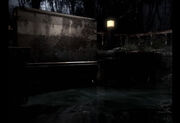 This will cause the water to fall down below, allowing the player to pass across and reaches the other side. Player can avoid the falling adders by running, and approaches the elevator that is located at the back.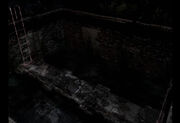 As long as the floodgate remains open, the water will continue to fall down below and block the entrance passage toward the courtyard B1.
Resident Evil
Location
Localization
Original Script
Floodgate
There's a square hole.
Ladder (After the floodgate is closed)
A water passage. There's a ladder
Resident Evil
Crank hole (Before using the crank)
There's a square-shaped hole here.
Crank hole (After opening the floodgate)
You can hear the sound of a waterfall in the distance...
Crank hole (After closing the floodgate)
The sound of the waterfall seem to have stopped...
1996
2002
Backgrounds
Edit
1996
2002
Bibliography
Edit
↑ Hamamura (ed.), Kaitai Shinsho, p.363.