Wayne Li's Note is a file in the Resident Evil 2 remake.
Location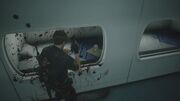 In the Nap Room, requires the Signal Modulator to pick up the file.
Transcript
Dear God. Blood. Everywhere! What the hell's happening? They're dead. All dead. It was those men in black, U.S.S., headquarters' special forces. But why? Isn't their job to protect us? White brains in a sea of red. This can't be happening

---
Dear God. Why? Didn't everybody say I was a genius? A genius like me can't die in a place like this. I always got results. They're screwing me... Well, maybe I'll screw them! I'll win the Nobel. I'm a hero. A genius, a god. I will not die. I will
いやだ。血の海だ。どこもかしこも。
なにかが起きてる。わからない。
みんな死んだ。死んだ!
撃ったのは黒ずくめの。あれはU.S.S. だ。
本社ご自慢の保安部隊。どうして。
彼らは俺たちを守ってくれるはずの。
白い脳漿が、真っ赤な血だまりを泳いでる。嘘だ。

---
いやだ。僕はいやだ。みんな僕を天才だって言った。
こんなところで死ぬはずがない。僕は誰より賢い。
成績はいつも一番だった。いつか見返してやれた。
あいつらを見返すんだ。ノーベル賞をとるんだ。
ぼくはヒーローだ。ぼくはてんさいですよ、かみさま。
ぼくはしなない。
ぼくは
Gallery
Official English localization
Original Japanese script
Community content is available under
CC-BY-SA
unless otherwise noted.