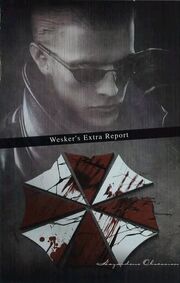 Wesker's Extra Report (ウェスカーズエクストラリポート, U~esukāz uekusutora ripōto?) is a booklet that came with the special editions of Biohazard Umbrella Chronicles, exclusive to Japan.
A translation can be found here.
Transcript
興味深い事件だ…

ロシア、コーカサス地方の寒村で猟奇殺人事件が連続発生している。
村人は伝説の怪物「アルマス」が蘇ったのだと騒いでいるが…その惨状はラクーンフォレストでの最初の猟奇事件を簡単に連想させる。

その村の3キロ先にはソビエト時代に作られた古い化学工場があり、調査によれば、現在所有権はヨーロッパの名門貴族の元に移っている。

5年前には外資を投入して大規模な地下開発を行なったらしい。
地質調査を見れば固い岩盤があり、ある種の施設を作るには申し分ない。

どうやらクロスワードが揃ったようだ。

ラクーン消滅から5年、アンブレラは図太く、生き延びてきた。
ウィルス漏洩の責を問われ、株価暴落にも関わらず、すべてはアメリカ政府の陰謀であるという裁判とキャンペーンを展開、最終的な死刑宣告までの時間稼ぎに成功してきた。

元々政府と癒着してきたのがアンブレラにとっては幸いだった。
当然国にも叩けば埃がでる機密があり、それを法廷とマスコミに切り売りすることで民衆の疑念を煙に巻く生き残り戦術だ。

人や組織や国家にさえ、多かれ少なかれ狂気というものが潜んでいる。
しかし、あの事件で最も狂っていたのはアンブレラにほかならない。

愚かなアンブレラに再興の兆しが見える。紛争地でB.O.W.が跋扈し始めている。兵器としてB.O.W.が供給されているのだ。
アンブレラは水面下で、体制を整え生物兵器を生産し、輸送する船舶が運航しているという情報も入ってきている。

潮時だ。t-ウィルスを捏ね繰り回し、変異体を作り、販売する。
それに一定の成果が出ようとも、ウィルスを生体兵器の製造媒体にしか扱えない想像力ではいずれまたつまらないボロを出す。

"賢者の石"は真にふさわしい錬金術師の手へ。ふさわしくない者は、静粛に退場願おう。

ここが必ずアンブレラ終焉の地になる…
An interesting incident... Bizarre murder cases have recently occurred in a remote village in the Caucasus region of Russia.
The villagers there are making noise that a legendary monster "Almas" has been revived... The disastrous scene easily reminds me of the first bizarre incidents in Raccoon Forest. There's an old chemical plant three kilometers from the village that was built during the Soviet era, and according to the investigation, the property rights have now transferred to a prestigious European noble family.
It seems foreign capital was invested five years ago and a large-scale underground development was conducted.
According to geological surveys, there's a solid bedrock perfect to construct a certain kind of facility on.
Evidently, it seems the crossword's been solved. Umbrella has boldly survived for the five years since Raccoon's annihilation.
Held responsible for the virus leak, and in spite of a plunge in their stock prices, they campaigned at the trial that it was all a U.S. government conspiracy and succeeded in buying time until the final death sentence.
It was fortunate for Umbrella that they had colluded with the government from the very beginning.
If you clear the dust, the nation naturally has secrets just like anyone else, and their survival tactics were to stir up public doubt by selling them in pieces to the court and the media.
That referred to as madness exists in varying degrees and lurks even in people, organizations, and nations.
However, Umbrella was the most insane in that incident. The foolish Umbrella is showing signs of a revival. B.O.W.s are beginning to go rampant in conflict regions. The B.O.W.s are being supplied as weapons.
Umbrella has organized itself beneath the surface and established a system to produce Bio Organic Weapons, and information has come in that they operate ships for transportation.
It's time. They fidget with the t-Virus, create mutant organisms, and sell them.
Even if a certain amount of results were to appear, their imagination, merely trifling with the virus as a medium for bioweapons manufacture, will give themselves away again someday.
The "Philosopher's Stone" belongs in the hands of a truly worthy alchemist. Those unfit should withdraw in silence.
Without a doubt, here will become the place of Umbrella's demise...
Community content is available under
CC-BY-SA
unless otherwise noted.